A note 📝 from our nurses regarding COVID-19 cases.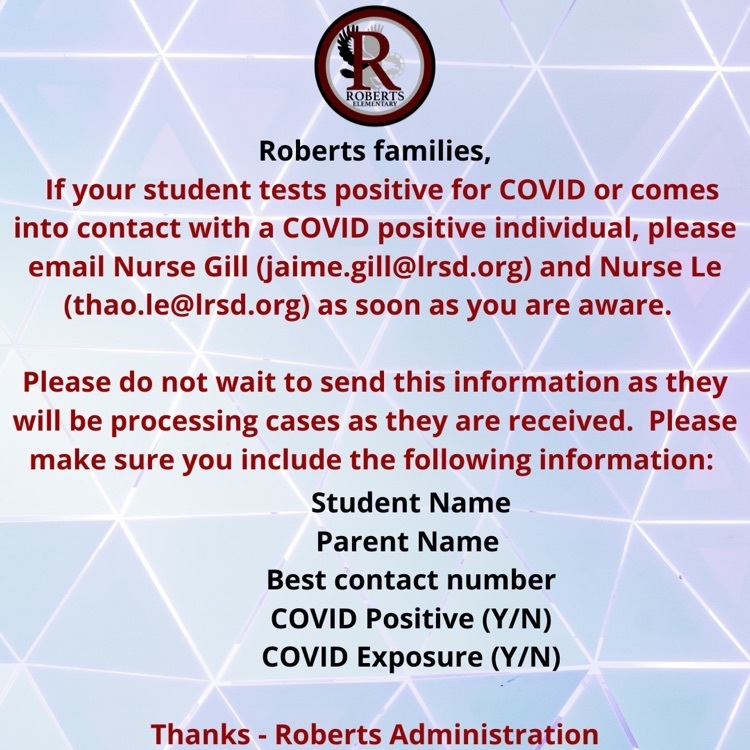 It's Spirit Day at Chuy's! 11am-9pm Dine in, order online, and catering! Be sure to mention Roberts when ordering! Thanks for supporting Roberts and this wonderful local business!
Good morning, Roberts community! The Mayor's office is hosting a virtual Scott Stroll to visit with West LR residents about issues, concerns, and needs in their area. Please see attached flyer and link for registration if interested. To ensure you have access to the meeting at 6pm tonight, we've included the zoom link.
https://us02web.zoom.us/j/83613289253?pwd=V2M3YkRWdWdlUFV1b3VkbUVEM0NTQT09

Getting all set up! Can't wait to see you soon! Concessions available! See menu below!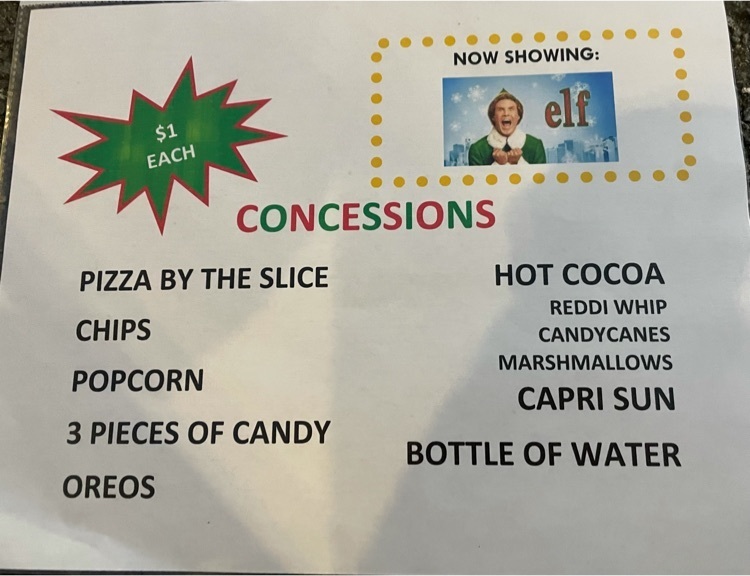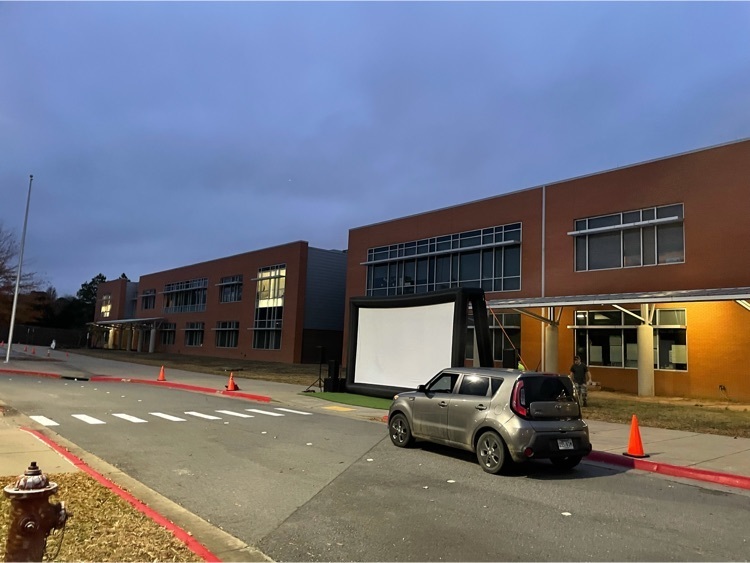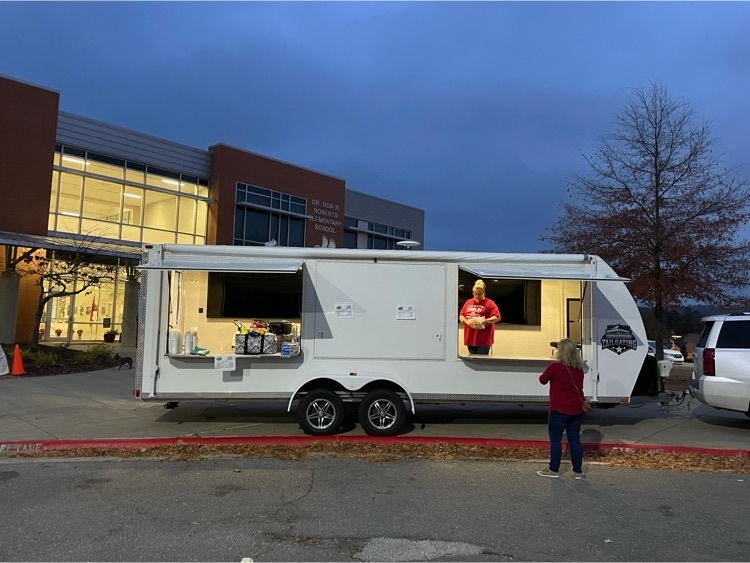 We'll see you at the movies tomorrow night at our first annual drive in at Roberts! Free event for the whole family! Concessions begin at 6pm, movie will start at 6:30 Bring your chairs, blankets and wear your pj's! All proceeds from concession sales benefit Roberts PTA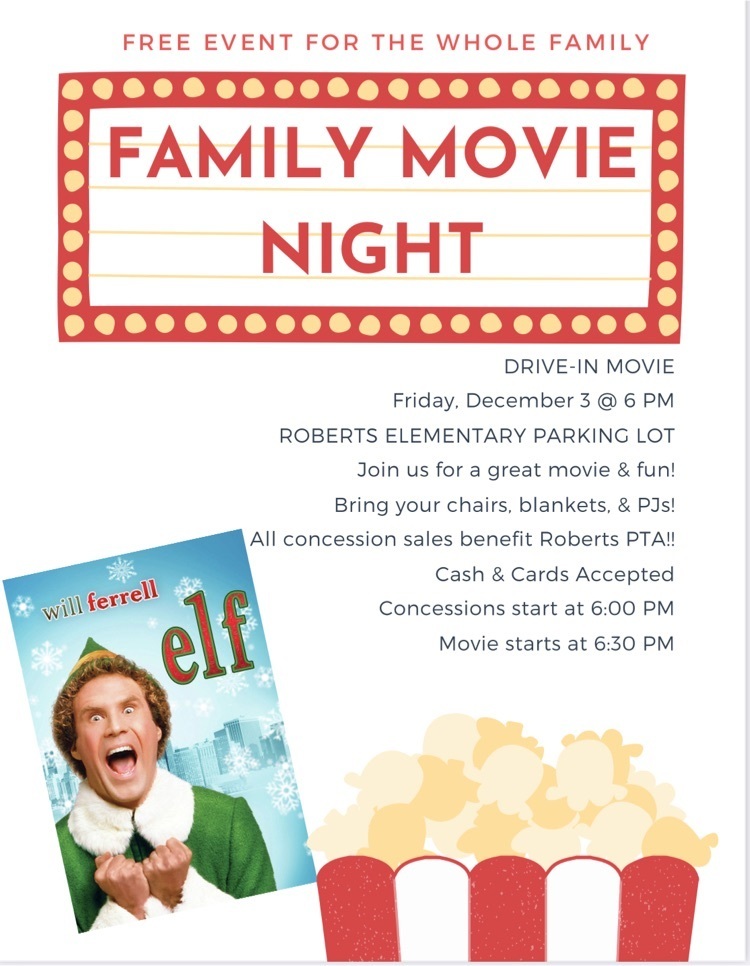 Pediatric COVID-19 Vaccine clinic tomorrow from 4:30pm-6:30pm for second dose for those who received their first dose on November 9th.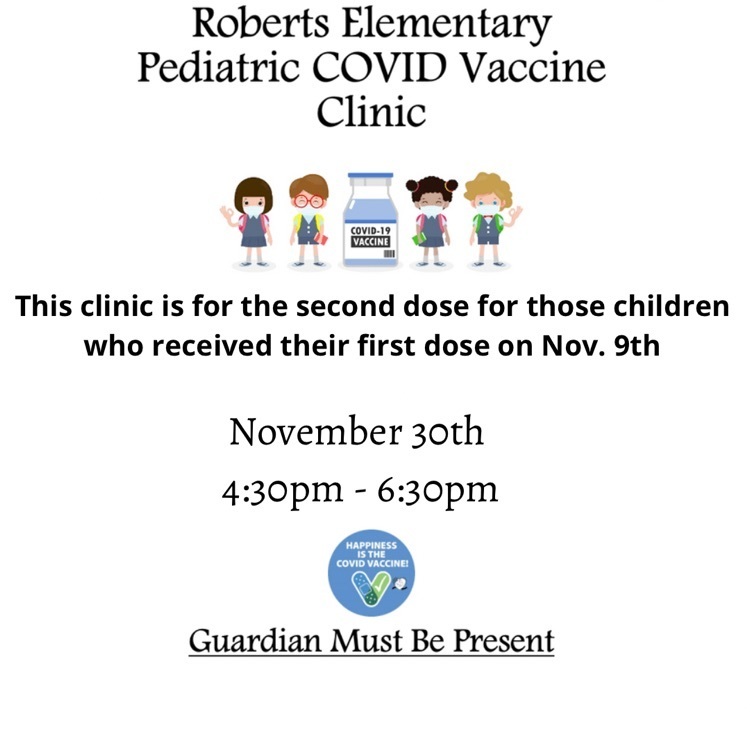 Happy Hanukkah to our community who started their celebrations tonight.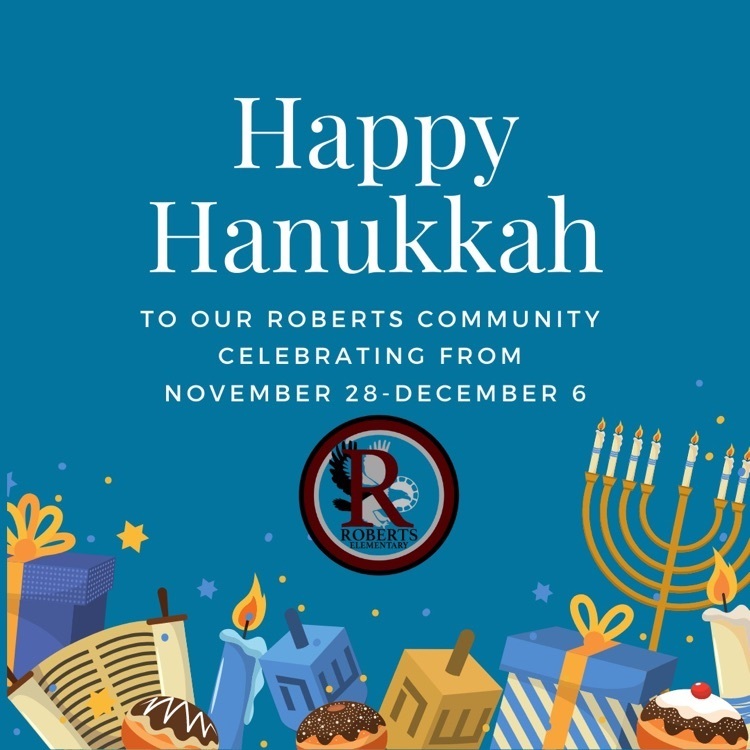 Good afternoon Roberts families! This week your student will be bringing home the Roberts Spirit T-shirts that PTA purchased for all students in the building. There are a few sizes that didn't come in and we will get those printed and distributed as soon as possible. As a reminder, these t-shirts will serve as field trip and field day shirts for the year. Our goal is for all students wear these throughout the year (as they like or have occasion to) and come field day in May be able to wear them for a final celebration to end the year! Thank you again for all you did to help raise over $84,000 for Book It to make this possible!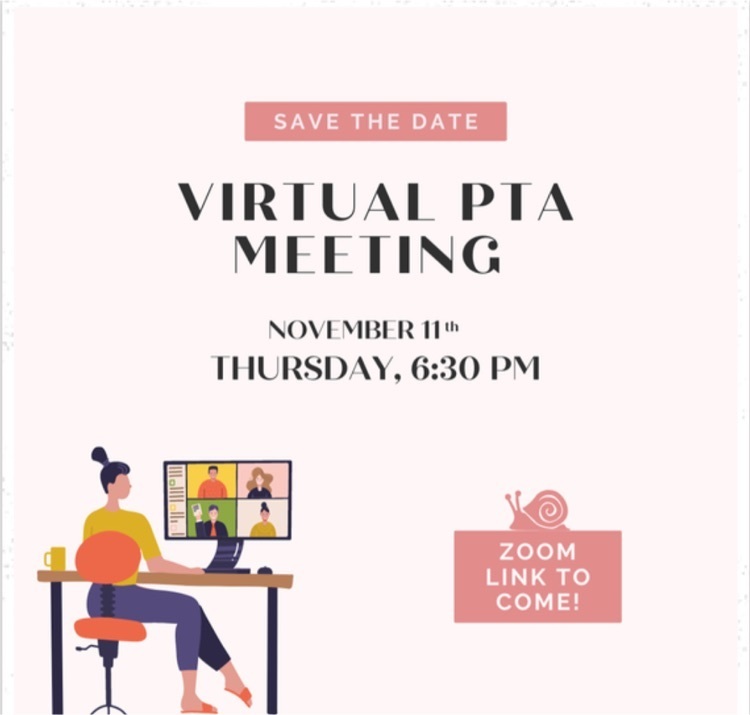 Spirit Day at the Painted Pig today!! Visit any time between 4-8pm to create a special gift or just enjoy a fun family outing! Order online any time today
http://Paintedpigstudio.com
Be sure to mention Roberts!!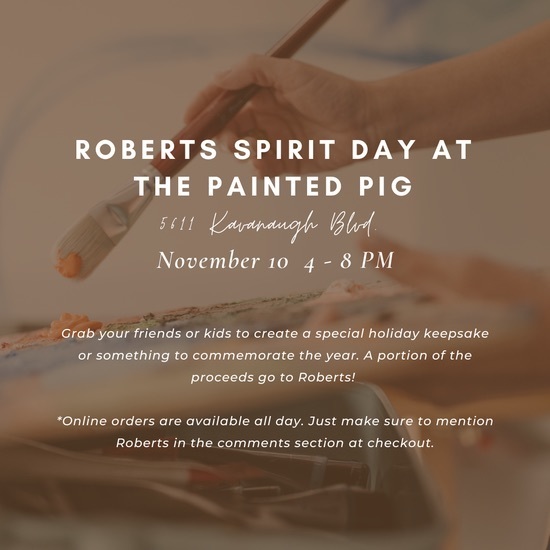 Mark your calendars! Spirit day with the Painted Pig on Wednesday-A great chance to get a jump start on holiday gifts for those special people on your list Be sure to mention Roberts! Thanks for supporting this amazing local business who is supporting us! General PTA meeting Thursday 11/11 @ 6:30pm. Join us for updates and information about upcoming events! Join Zoom Meeting
https://us02web.zoom.us/j/82103083426?pwd=cGlYR1hzdys5QTVoblo2RmdiWVR6dz09
Meeting ID: 821 0308 3426 Passcode: together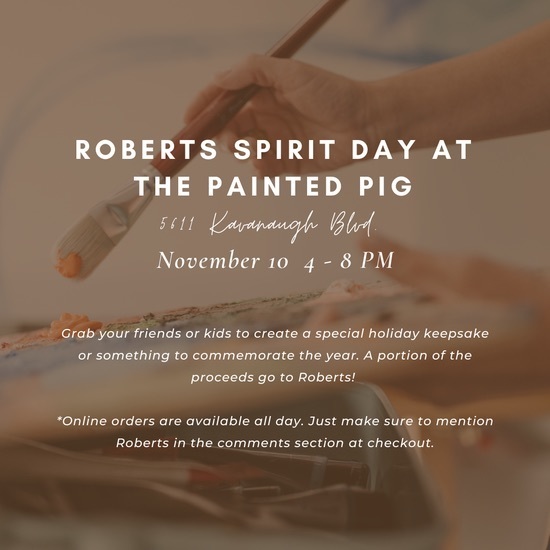 The Math and Literacy Fall Festival sponsored by Hub International is tomorrow 5-7pm!! Looking forward to seeing all our families! Costumes and masks are encouraged! We still need volunteers!! Please consider taking a 30 minute shift. Thank you!
https://www.signupgenius.com/go/20F0A4DABAA2AA7FA7-math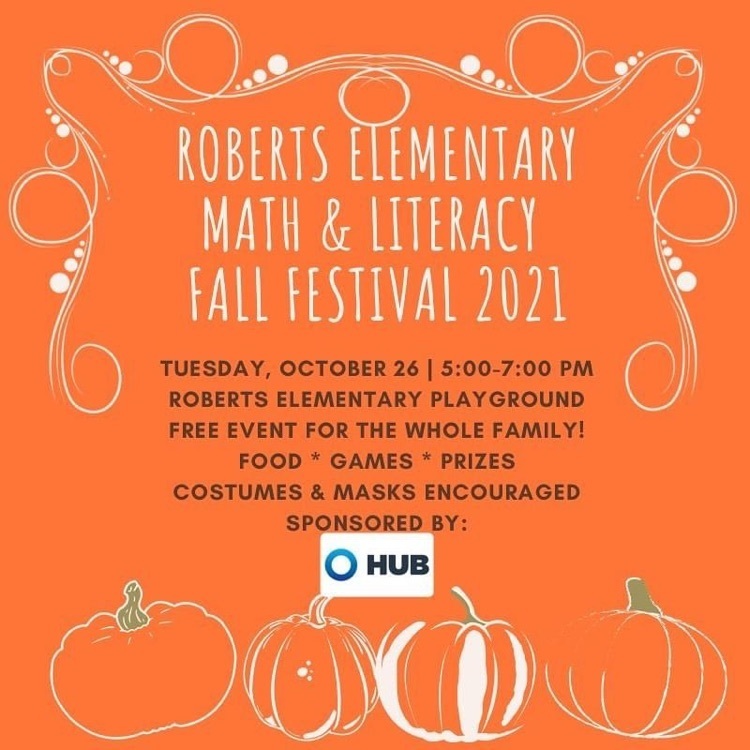 Red Ribbon Week is this week! We kick off tomorrow with "Going Hog Wild about making smart choices! Wear red or your favorite college or university apparel!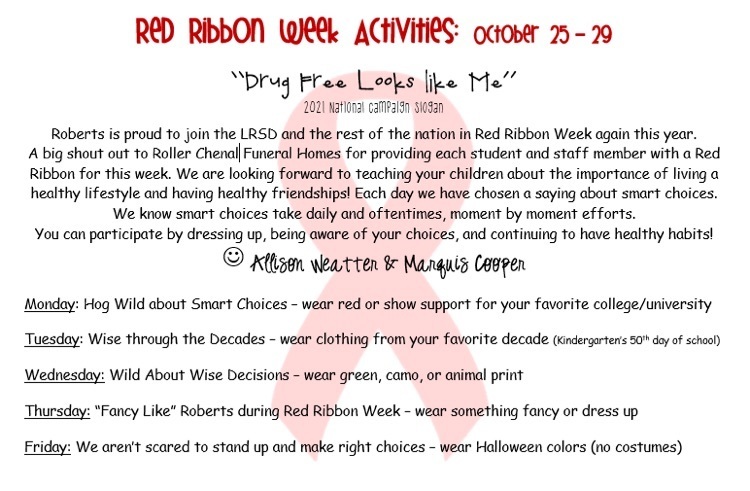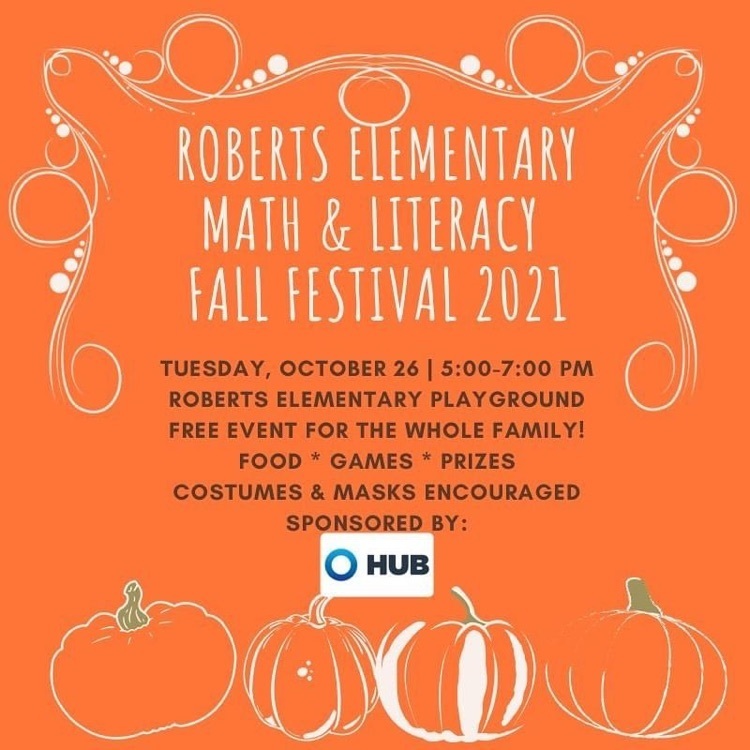 Weather looks to be beautiful this weekend! Add a trip to Bo Brook tomorrow or Sunday to your weekend plans! Remember Roberts receives a percentage of the proceeds! Check out
http://www.bobrookfarms.com/
for a list of events this weekend!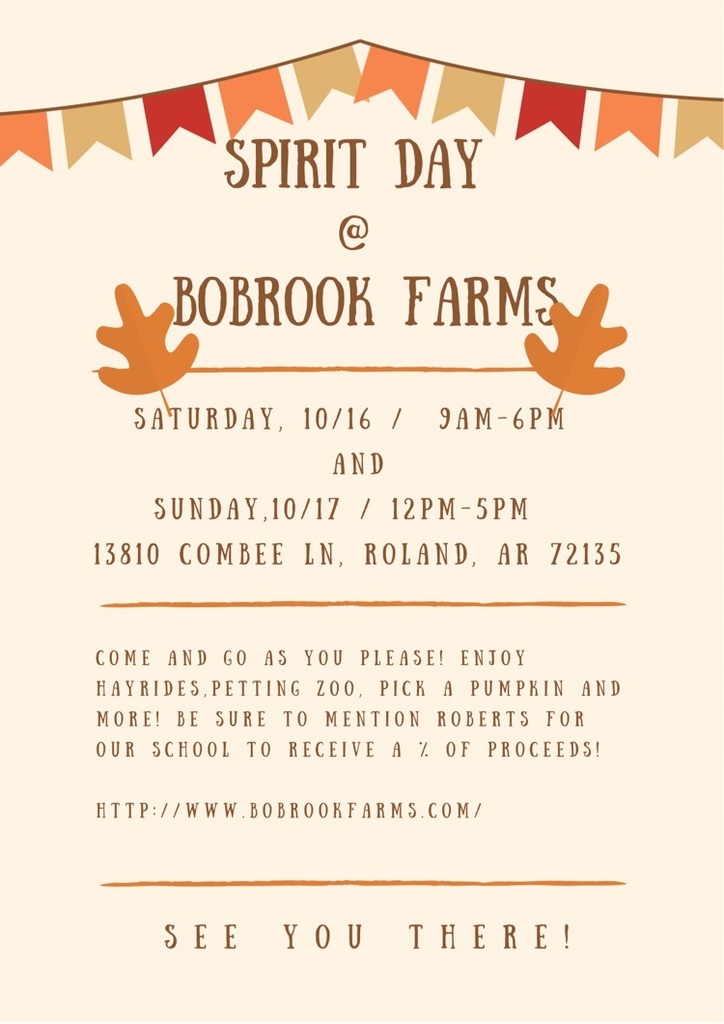 Our Math and Literacy Festival is coming up Tuesday 10/26! We are so excited to see all our families and students! To make this a successful event we need your help! Please use the following link to sign up for a volunteer slot!
https://www.signupgenius.com/go/20F0A4DABAA2AA7FA7-math
Thank you!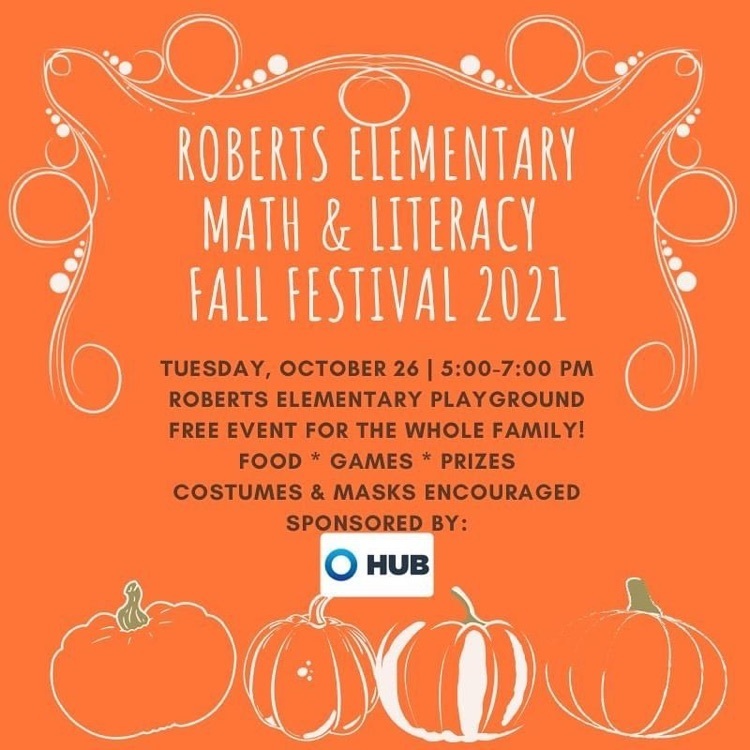 It's Shorty Smalls spirit day!! Head over for lunch, dinner, or both! Feel free to share with neighbors and friends and thanks for supporting our school and this amazing local business!!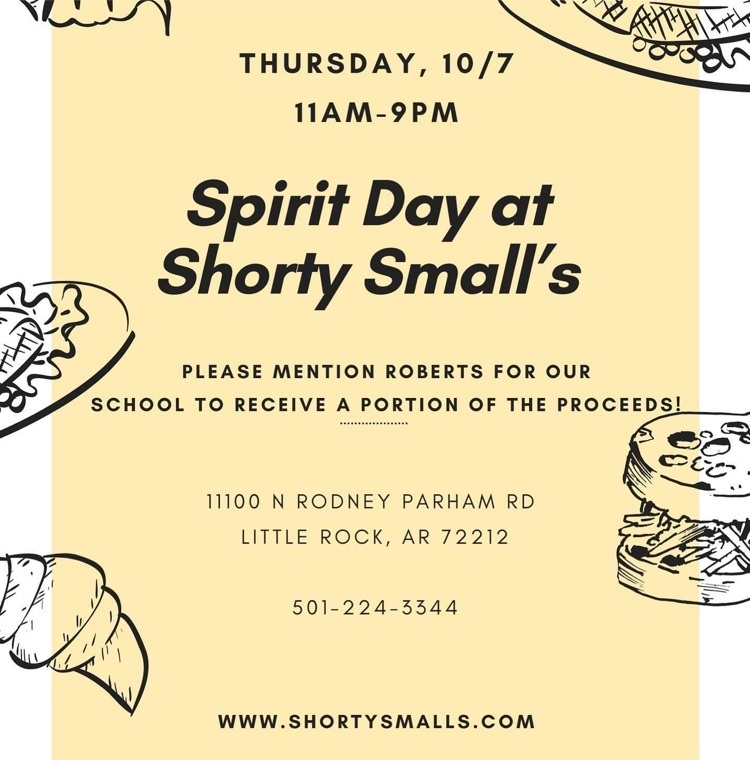 Mark your calendars for another great spirit day! Check lunch or dinner (or both)! off the list and join us in supporting another wonderful local partner Thursday 10/7 😊🙌🏻