We can't wait to see you all tomorrow night! #RobertsRocks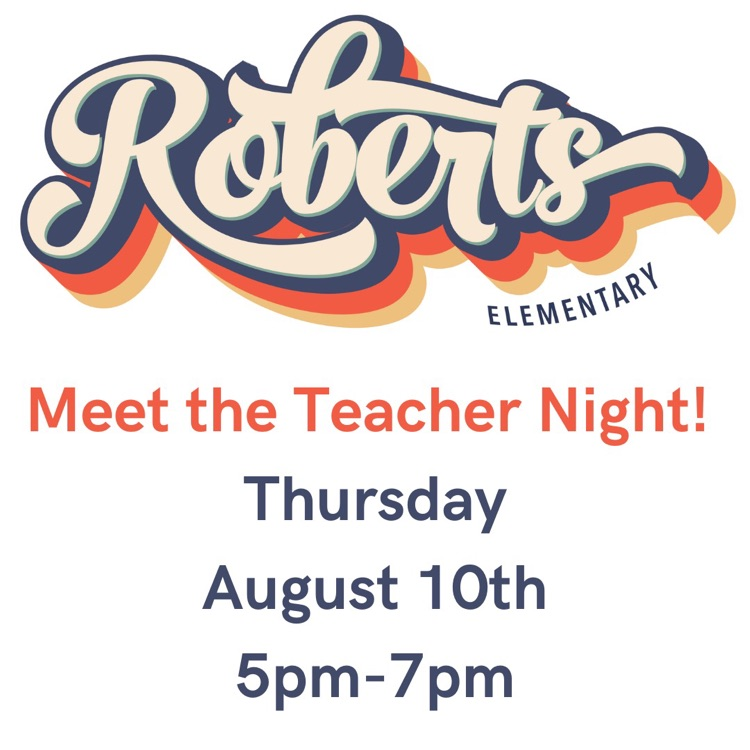 Don Roberts Spirit night at Chuck E Cheese tonight! 3-8pm Location: 2706 S. Shackleford Rd. Little Rock, AR 72205 Don't forget to mention Don Roberts!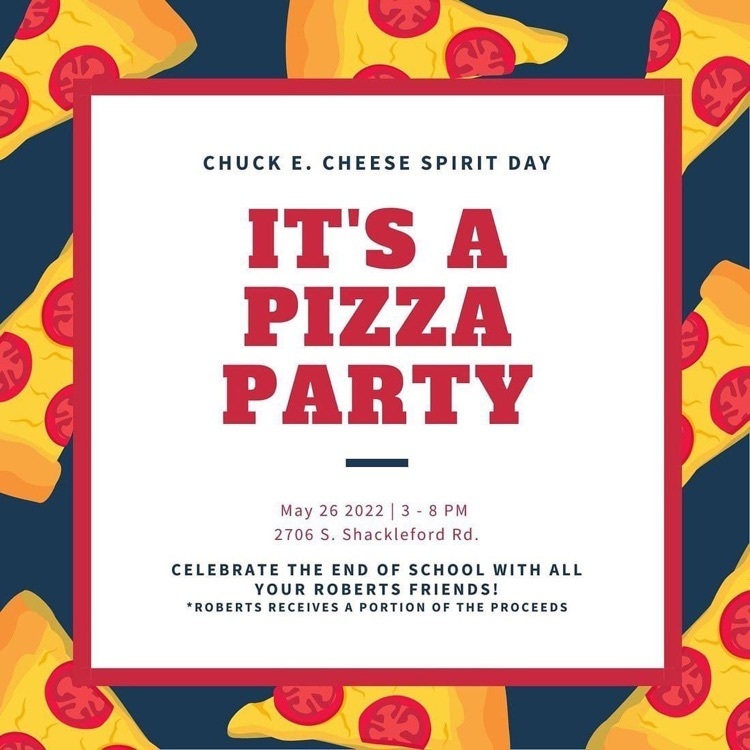 Field day is tomorrow! It's going to be hot so please be sure to send a reusable water bottle with your student as well as a change of clothes and shoes! Be sure to have your student wear their class Roberts shirts as well!

Today is Chuy's spirit day! 11am-9pm! Dine in, order online, or catering! A percentage of the proceeds benefits Roberts! 🌮 🌯🥑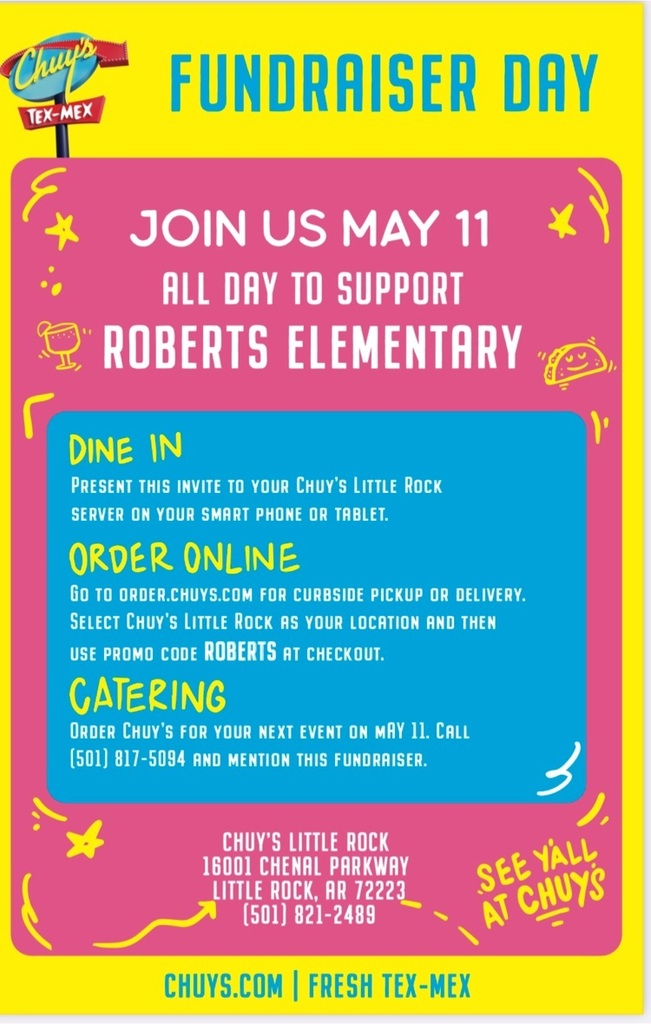 Just a quick reminder that Field Day is this FRIDAY, MAY 13th. Special thanks to our sponsor Hodge Orthodontics! VOLUNTEER HELP We still need some volunteers for the afternoon-please sign up here:
https://m.signupgenius.com/#!/showSignUp/60b0c4aa4a62da3fd0-donroberts
This volunteer gig is a blast but requires your full attention, as you will be supervising individual stations at Field Day to keep the event rolling. Because of this we ask that you please sign up for a shift during the time when your child is NOT participating in Field Day activities 3rd-5th grade 8:00 am - 10:45 am K-2nd grade 11:15 am - 2:05 pm You are invited and encouraged to spend time with your child as they participate in Field Day for the other half! We cannot do Field Day without family support so thank you in advance! FIELD DAY BASICS It gets hot and wet. Please send a change of clothes and a bag for wet clothes for your child--there is water play so they will get wet!! Please apply sunscreen to your child before coming to school There will be water stations for the kiddos to stay hydrated, but it is a good idea to have some snacks & additional things to drink including a refillable water bottle. Check with your Room Parent about any specific needs/plans for the classroom on the day of. Thanks everyone! We are so excited for this Friday!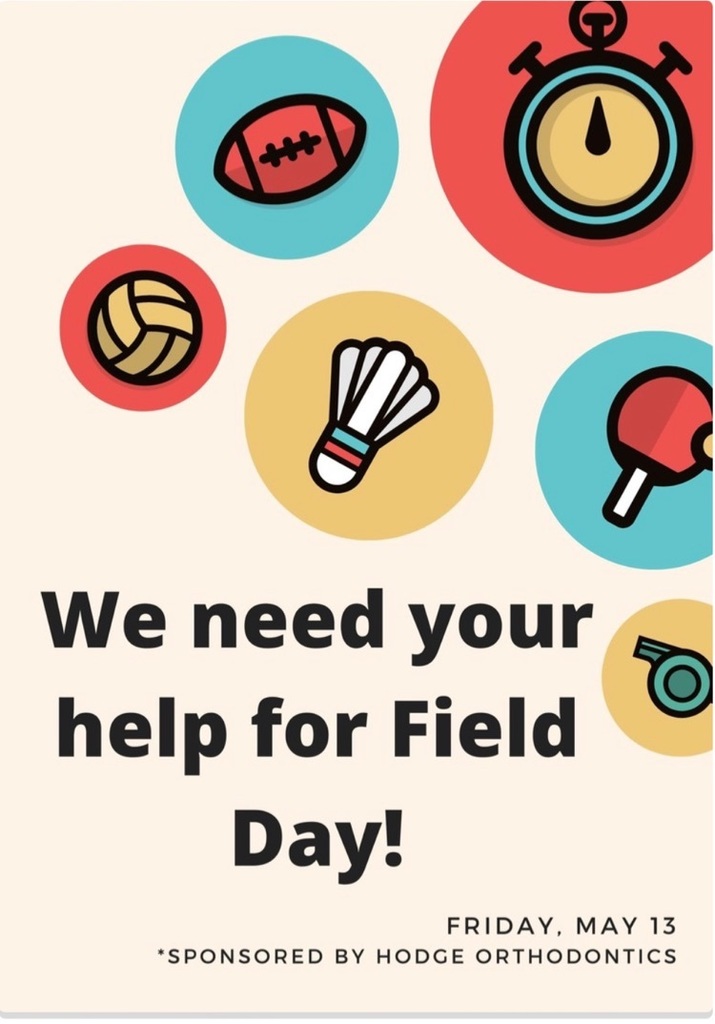 Next week is Teacher/Staff Appreciation Week!! Let's show them how much they are appreciated. 💙💜 Monday 5/2:  Fan Mail.  Have your student write a note about why their teacher is the best.  A "fan mail" template came home this week. Use that or design your own! Tuesday 5/3:  Swag Day.  Have your student bring in a small gift of appreciation.  Wednesday 5/4:   Specialists are Stars.  Write a note or bring a small gift for your specialists (art, music, counselor, library, etc) Thursday 5/5:  VIP for the Day.  Teachers & Staff will enjoy a food truck lunch courtesy of PTA.  Friday 5/6:  The Main Event!  Students will cheer for their teachers and staff as they walk the red carpet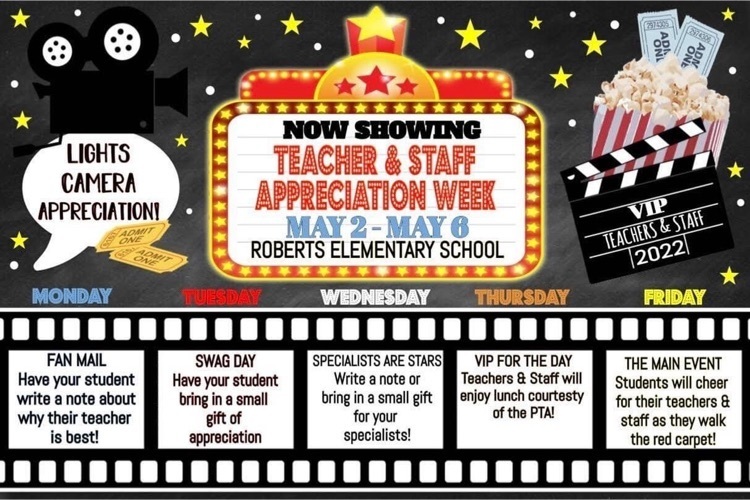 Getting it all set up! Pizza, popcorn, chips, drinks! All for sale at 6:30! 🍿 Movie starts at dusk! 🎥 See you at the movies!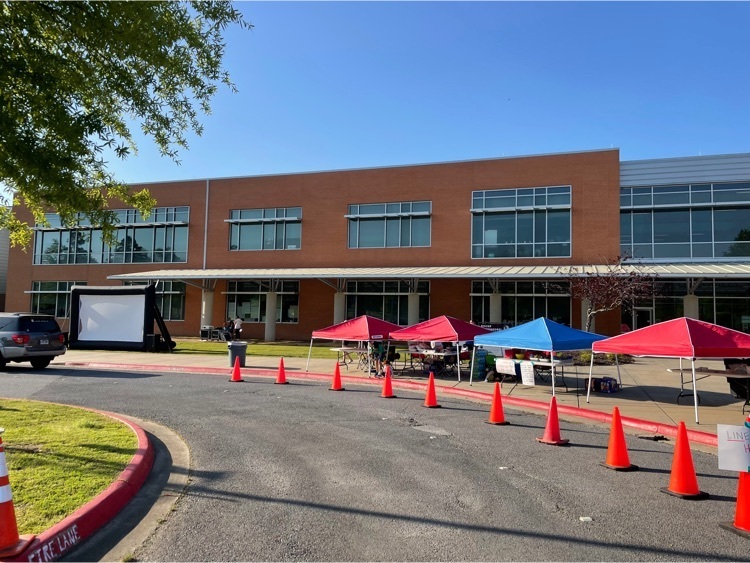 Roberts families and friends! Movie night is tonight, Friday 4/22. Concessions open at 6:30, movie will start around 7:30 See you at the movies!! 🎥🍿 We need volunteers!! Please visit the following link to see if you are able to volunteer for a time slot. Thank you! 🦅🦅
https://m.signupgenius.com/#!/showSignUp/20f0a4dabaa2aa7fa7-movie
#robertsrocks because of our volunteers!! 💙💜❤️💛🖤🧡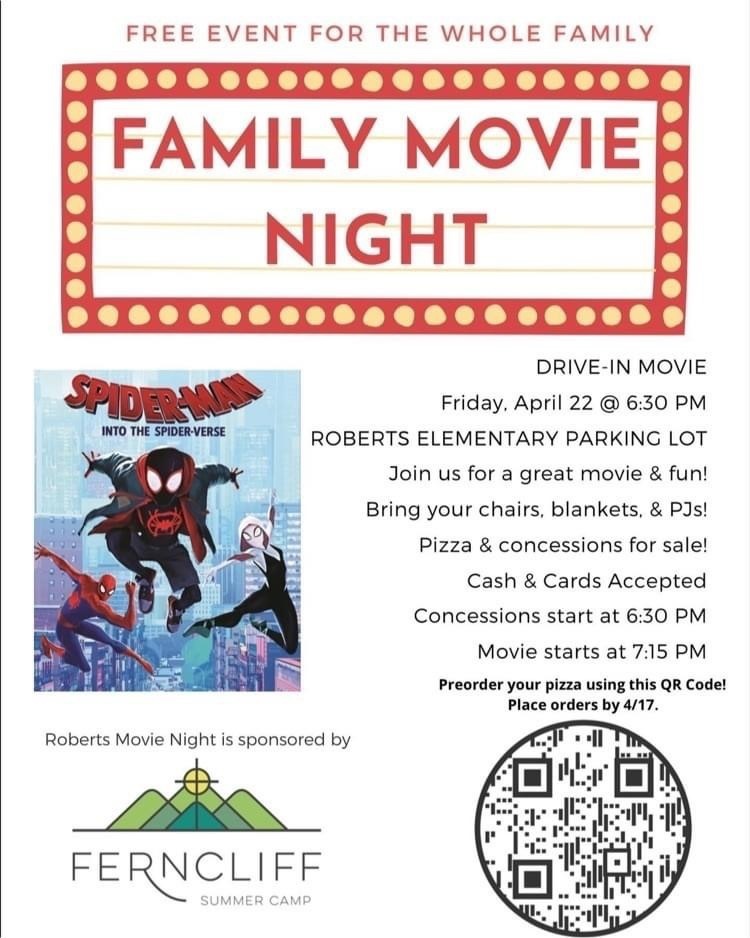 We have plenty of food for our picnic/meeting tonight. Come hungry and bring the whole family (even if you didn't RSVP)! Playground opens at 5 for picnic and meeting starts at 6! 😀🌭🍔🎉🎉 Enter through front doors!!

Good morning!! Today 4/21 is our picnic/general PTA meeting and we hope you ALL will attend. 🦅 Picnic begins at 5pm, meeting begins at 6pm First Security is sponsoring and providing burgers/hot dogs for the picnic. Thank you!! 🍔🌭☀️ PTA will provide drinks, chips and cookies 💥We are also looking for volunteers still for this meeting. We need just a few to set up, serve, and clean up. Thank you!! We appreciate all of our volunteers! ❤️❤️ Please sign up here:
https://www.signupgenius.com/go/20F0A4DABAA2AA7FA7-ptaspring
🦅🦅🦅#robertsrocks

Today is skate night!! 5-7:30pm! We hope everyone shows up because after the first 100 skaters, Arkansas Skatium will donate 50% of the proceeds!! See you there! 🛼🤩🤩🛼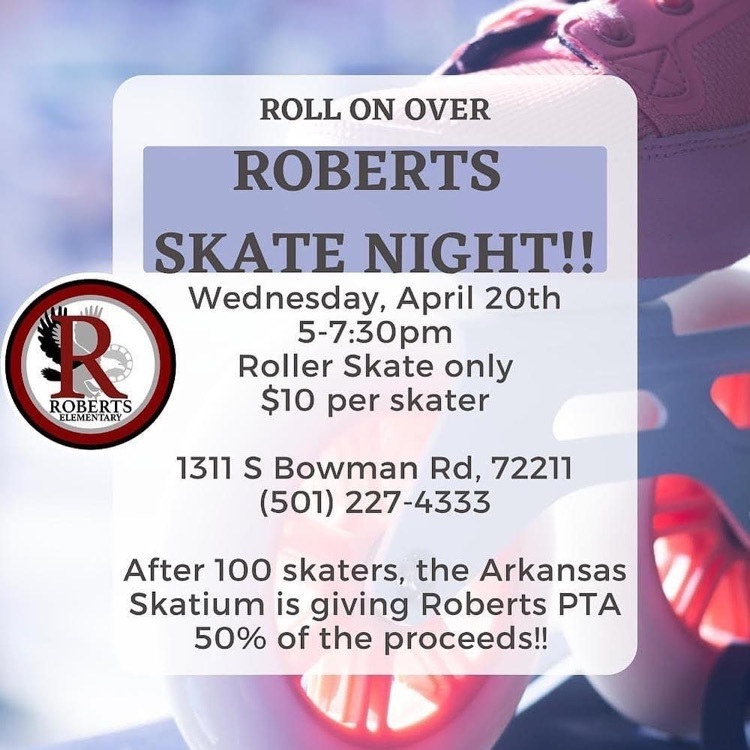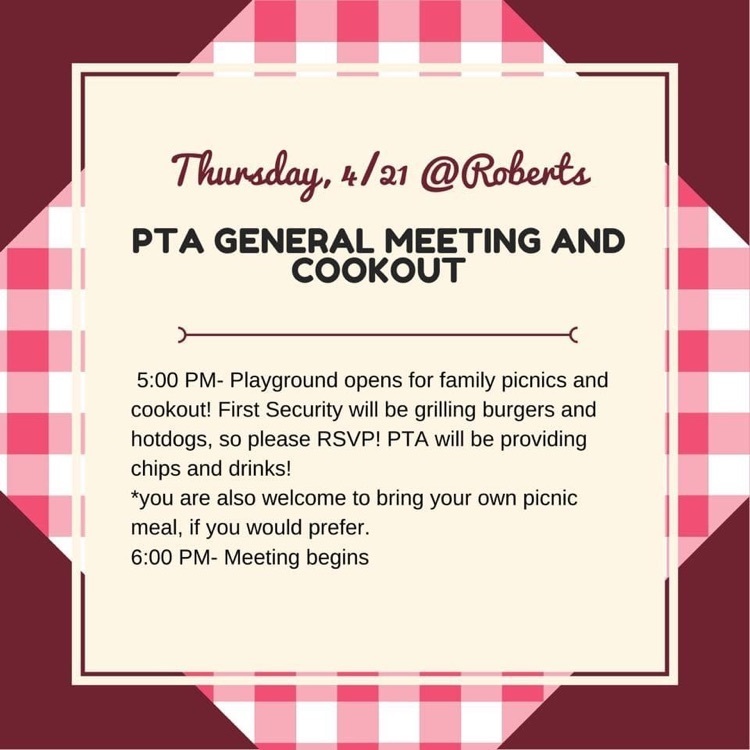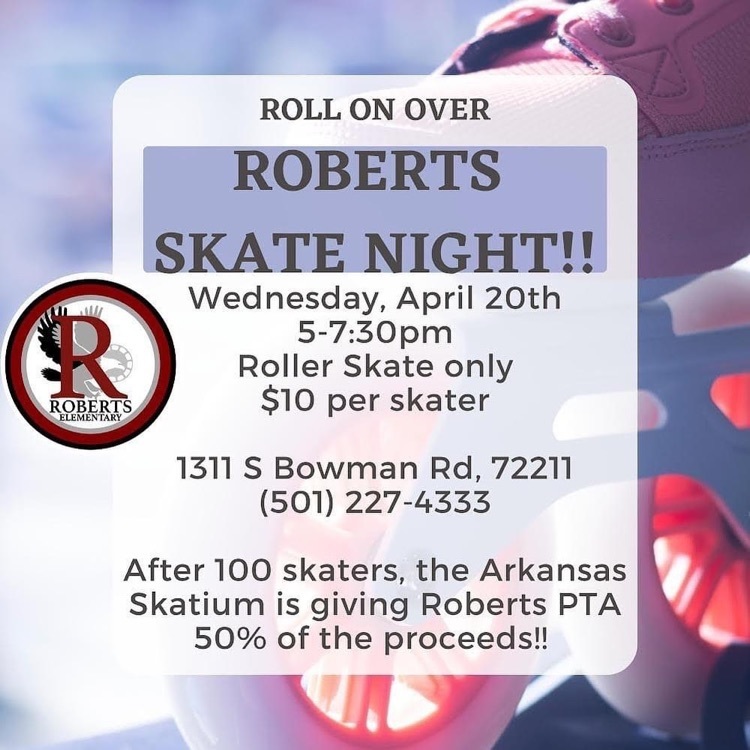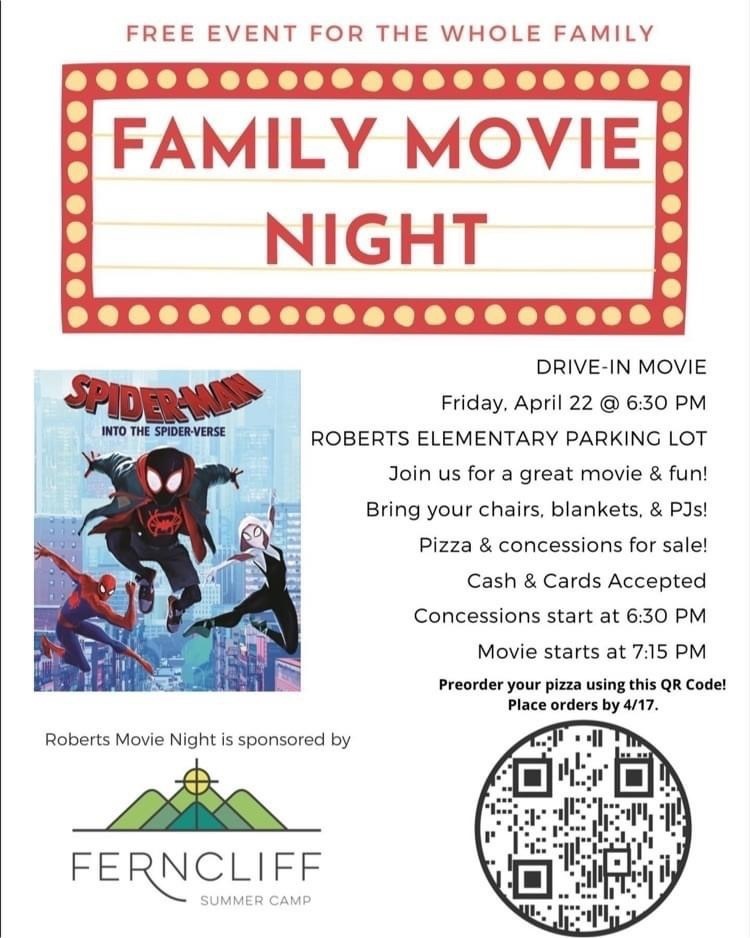 We are looking forward to the Daddy Daughter dance tonight at 7pm! Sponsored by Gates Law!! 💕 If your student does not have a special guest to bring along at that time, please email us at
robertsvolunteers@gmail.com
❤️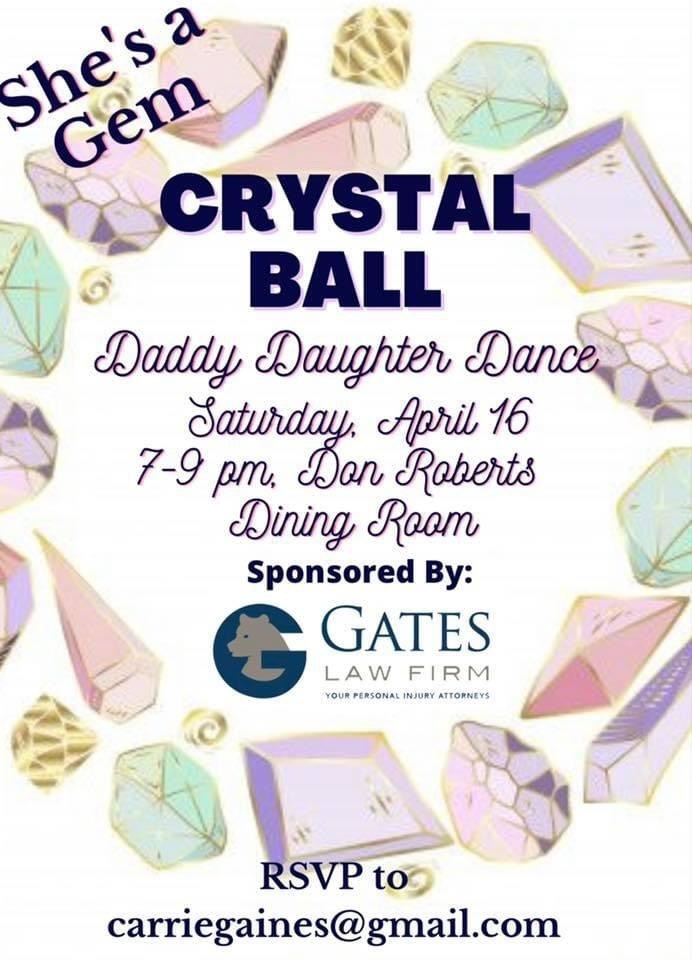 We are excited to see all our Daddy/Daughter and special friend duos Saturday night at the Daddy/Daughter dance sponsored by Gates Law Firm! If your student does not have a special guest to bring along at that time, please email us at
robertsvolunteers@gmail.com
❤️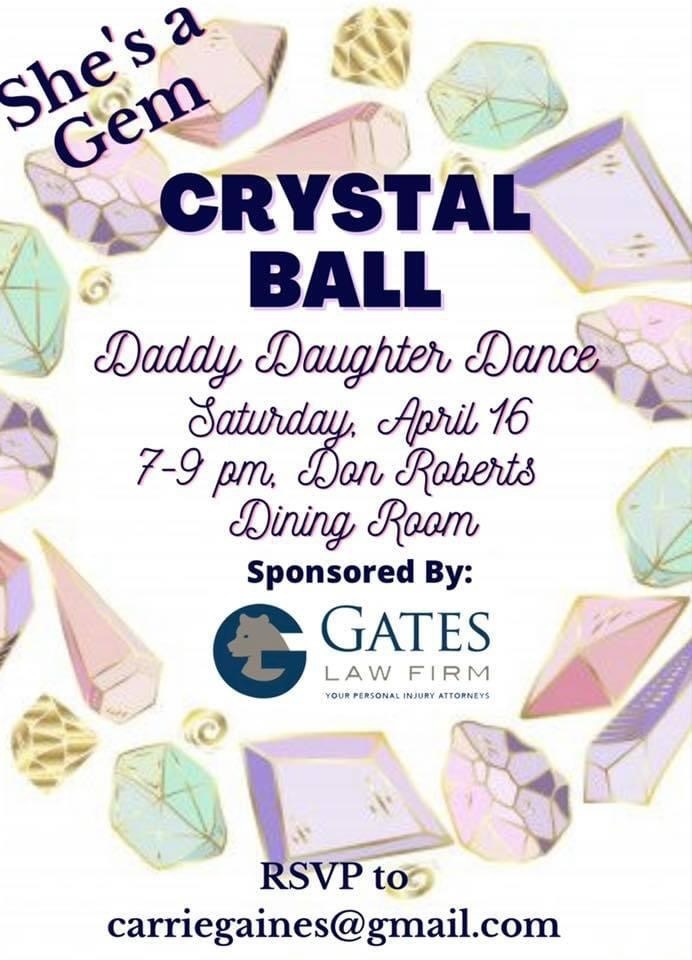 Friday, April 22nd @ 6:30 PM will be Family Movie Night at Roberts. Sponsored by Ferncliff Camp! Please see flyer for details. Scan QR code to preorder your pizza! Concessions will be available. We need volunteers! Please use the following link to sign up to volunteer for a shift on movie night. Thank you!! 🍿🎥
https://www.signupgenius.com/go/20F0A4DABAA2AA7FA7-movie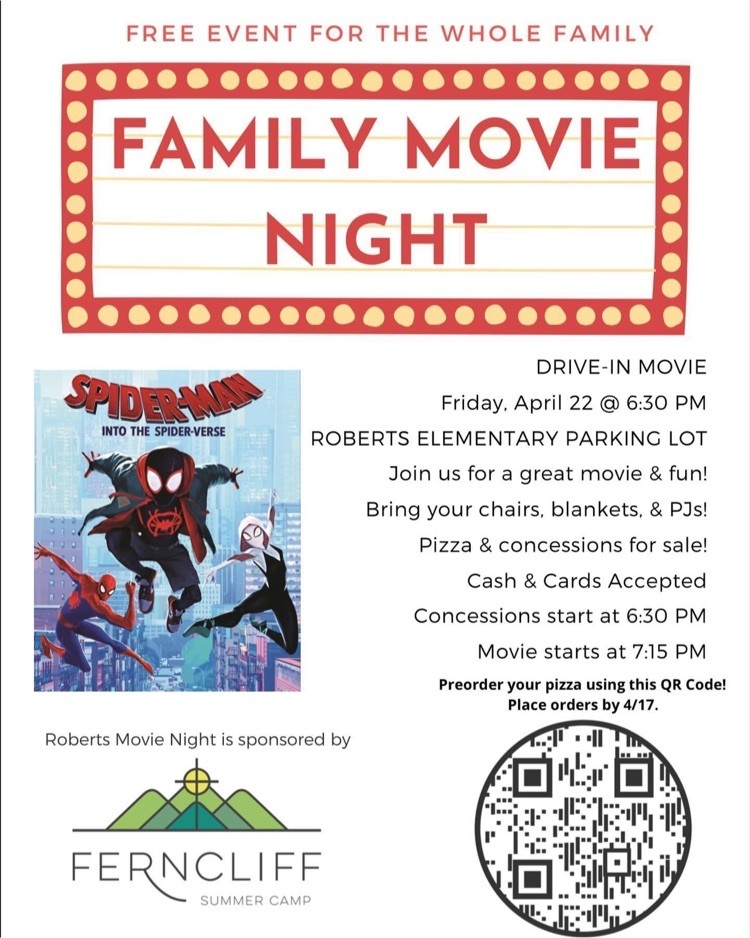 Happy Librarian Appreciation Day to our phenomenal media specialist, Mrs. Johnson!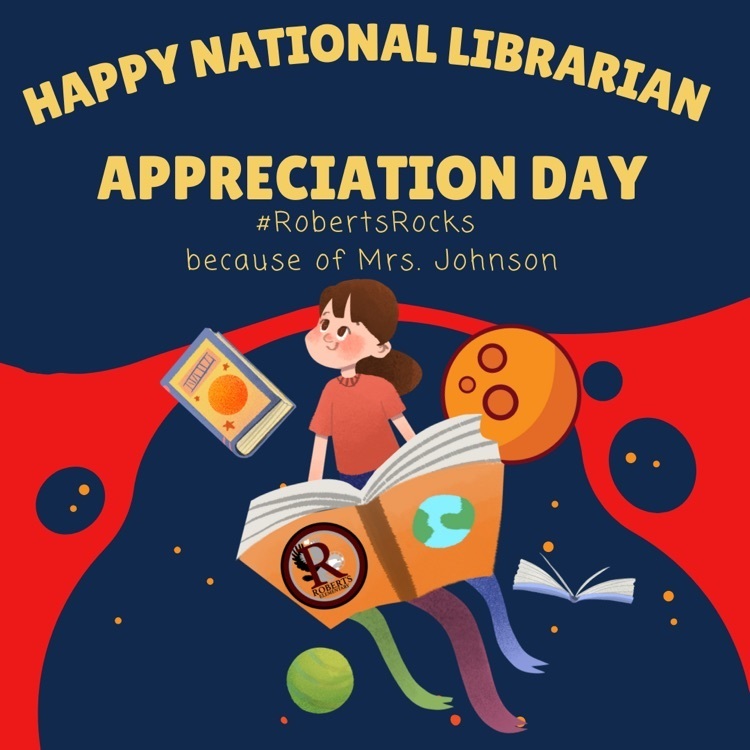 5th grade parents and students, let's talk middle school! Tonight at 6 PM in the Roberts dining room, you will be able to come ask questions and find out all kinds of information on what to expect at Pinnacle View next year! Thank you to PVMS Parent Engagement Facilitator, Mrs. Gilmer and parents, Tara Doyle and Amanda Peters for coming to prepare us! ❤️ @pvskyhawks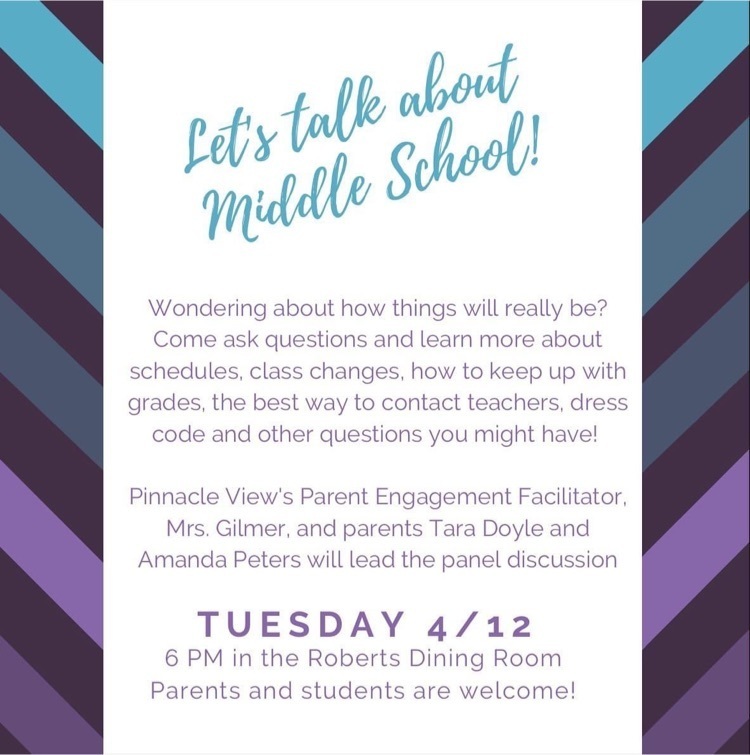 All auction items (art, physical items, gift cards, etc) must be picked up TODAY before 6pm Experiences were emailed to winners. Unless other arrangements have been made, items not picked up will be assumed a donation to the PTA Thanks so much for your support!