Good afternoon Roberts families! This week your student will be bringing home the Roberts Spirit T-shirts that PTA purchased for all students in the building. There are a few sizes that didn't come in and we will get those printed and distributed as soon as possible. As a reminder, these t-shirts will serve as field trip and field day shirts for the year. Our goal is for all students wear these throughout the year (as they like or have occasion to) and come field day in May be able to wear them for a final celebration to end the year! Thank you again for all you did to help raise over $84,000 for Book It to make this possible!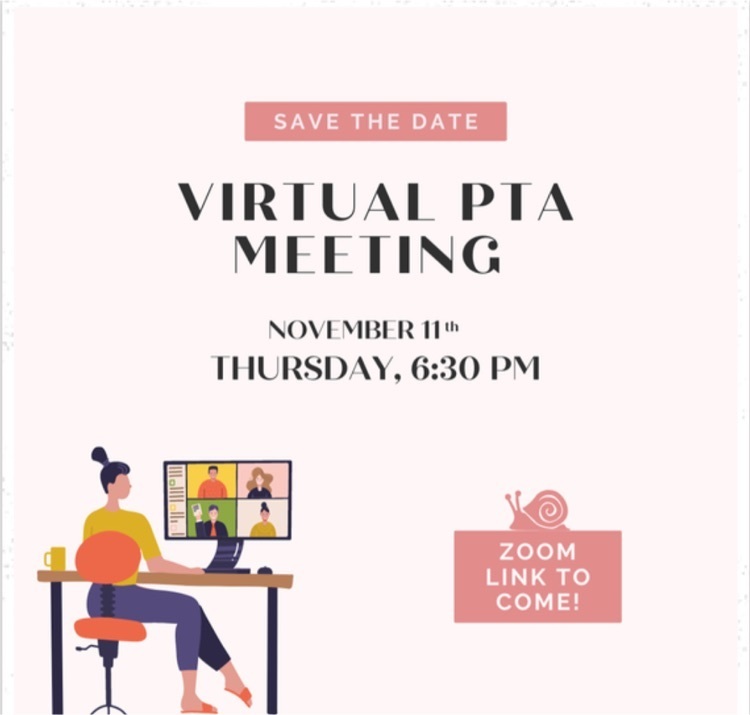 Spirit Day at the Painted Pig today!! Visit any time between 4-8pm to create a special gift or just enjoy a fun family outing! Order online any time today
http://Paintedpigstudio.com
Be sure to mention Roberts!!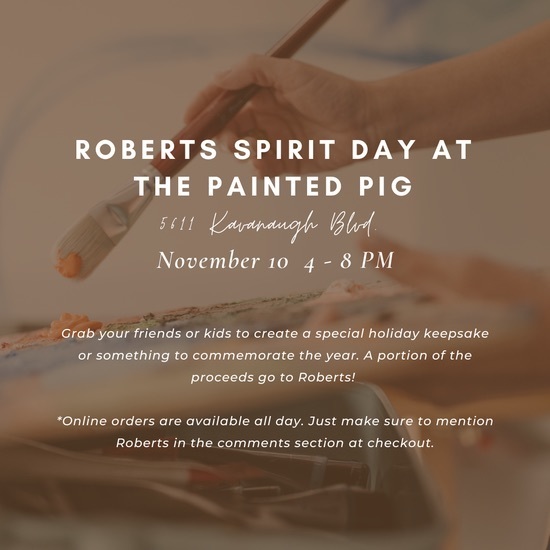 Mark your calendars! Spirit day with the Painted Pig on Wednesday-A great chance to get a jump start on holiday gifts for those special people on your list Be sure to mention Roberts! Thanks for supporting this amazing local business who is supporting us! General PTA meeting Thursday 11/11 @ 6:30pm. Join us for updates and information about upcoming events! Join Zoom Meeting
https://us02web.zoom.us/j/82103083426?pwd=cGlYR1hzdys5QTVoblo2RmdiWVR6dz09
Meeting ID: 821 0308 3426 Passcode: together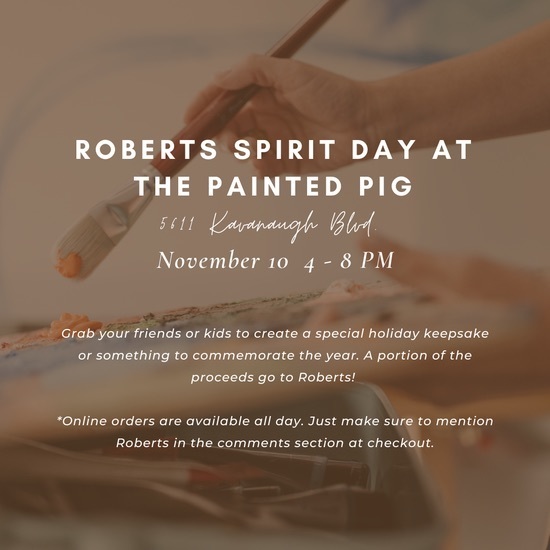 The Math and Literacy Fall Festival sponsored by Hub International is tomorrow 5-7pm!! Looking forward to seeing all our families! Costumes and masks are encouraged! We still need volunteers!! Please consider taking a 30 minute shift. Thank you!
https://www.signupgenius.com/go/20F0A4DABAA2AA7FA7-math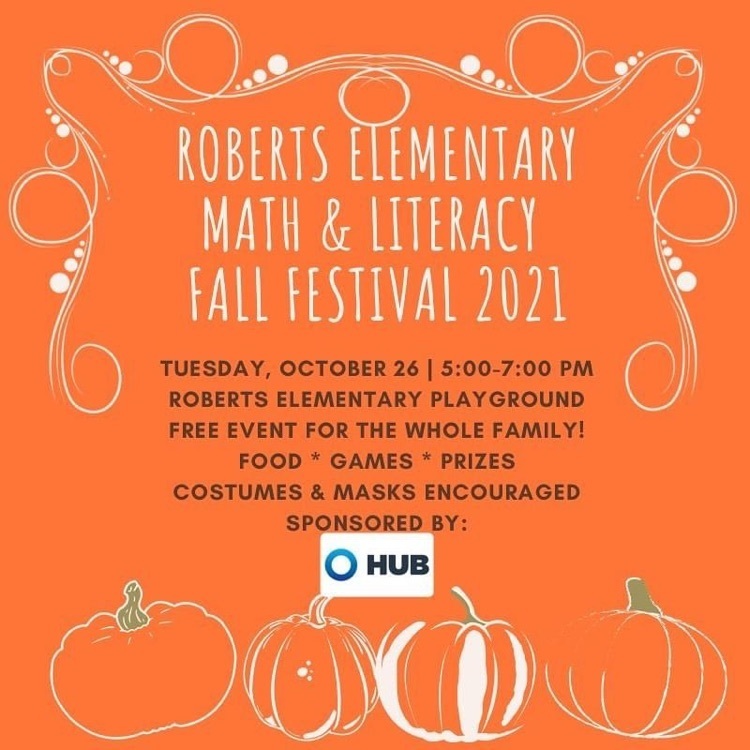 Red Ribbon Week is this week! We kick off tomorrow with "Going Hog Wild about making smart choices! Wear red or your favorite college or university apparel!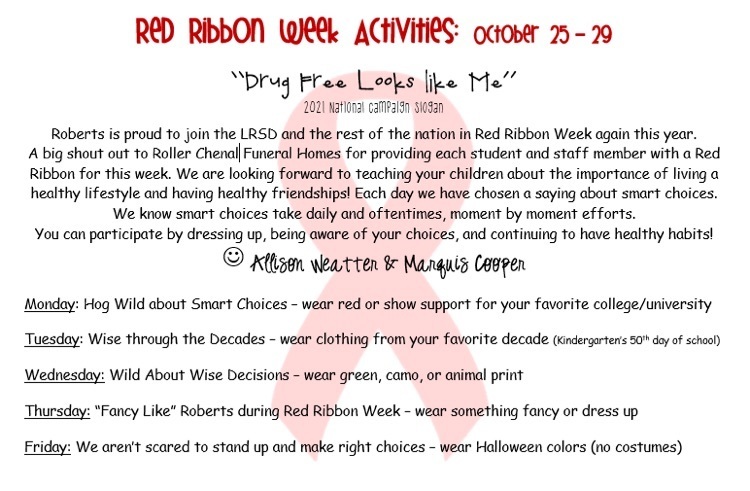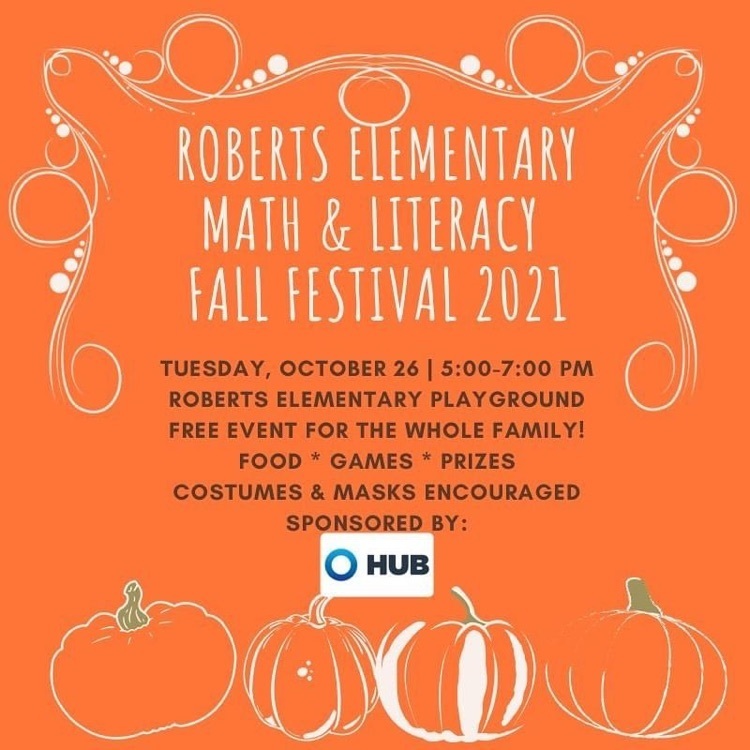 Weather looks to be beautiful this weekend! Add a trip to Bo Brook tomorrow or Sunday to your weekend plans! Remember Roberts receives a percentage of the proceeds! Check out
http://www.bobrookfarms.com/
for a list of events this weekend!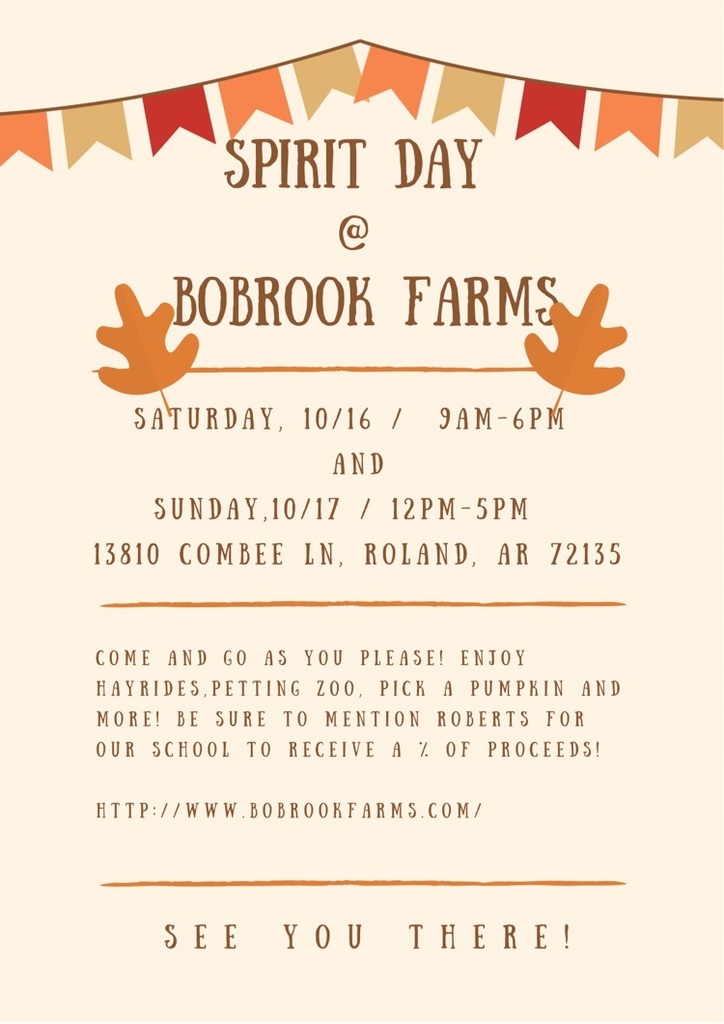 Our Math and Literacy Festival is coming up Tuesday 10/26! We are so excited to see all our families and students! To make this a successful event we need your help! Please use the following link to sign up for a volunteer slot!
https://www.signupgenius.com/go/20F0A4DABAA2AA7FA7-math
Thank you!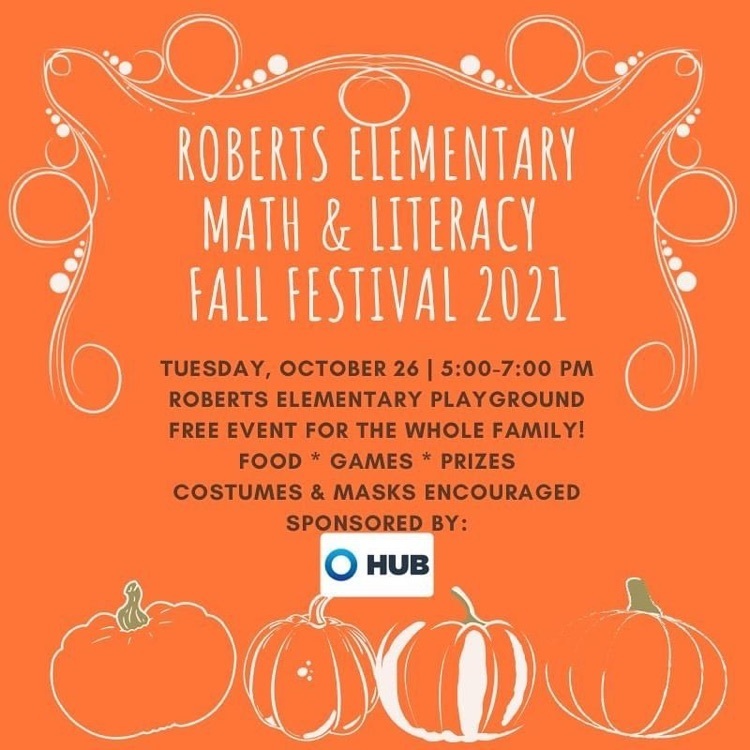 It's Shorty Smalls spirit day!! Head over for lunch, dinner, or both! Feel free to share with neighbors and friends and thanks for supporting our school and this amazing local business!!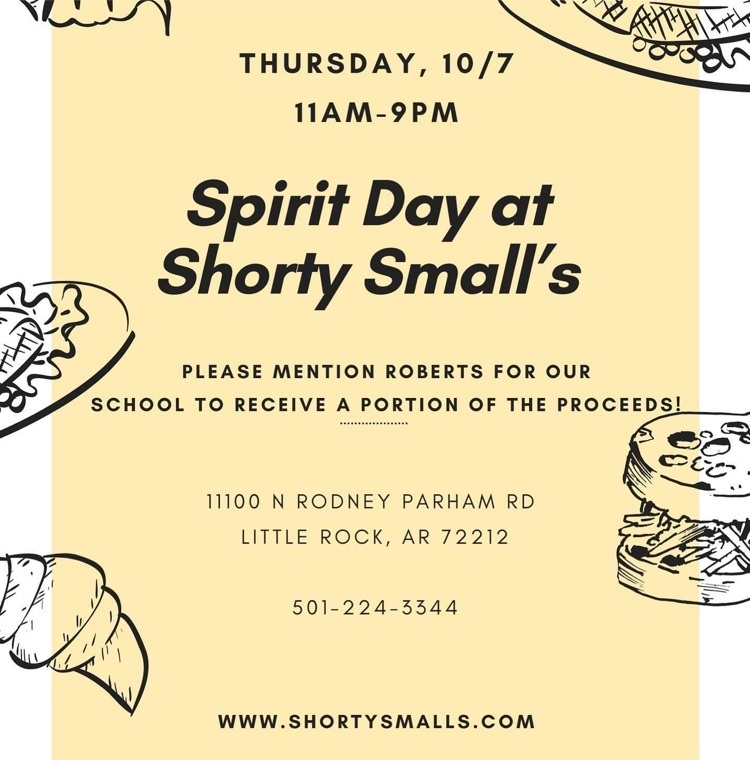 Mark your calendars for another great spirit day! Check lunch or dinner (or both)! off the list and join us in supporting another wonderful local partner Thursday 10/7 😊🙌🏻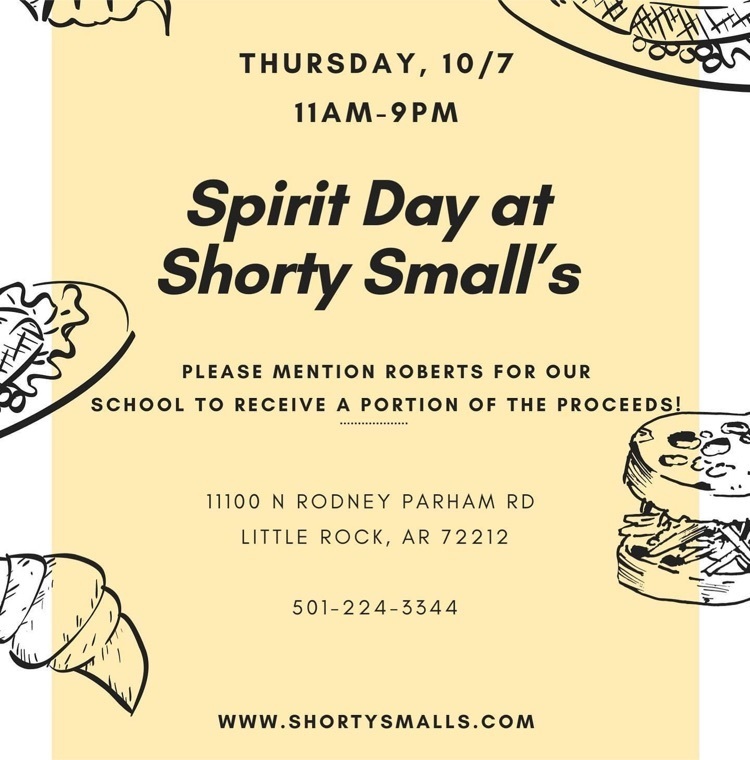 UPDATE! Due to the chance of rain we are moving our Spirit Day with Bo Brook Farms to Saturday AND Sunday 10/16 and 10/17! Bo Brook has graciously offered us two days so that families can come as their schedule allows-come one or both days!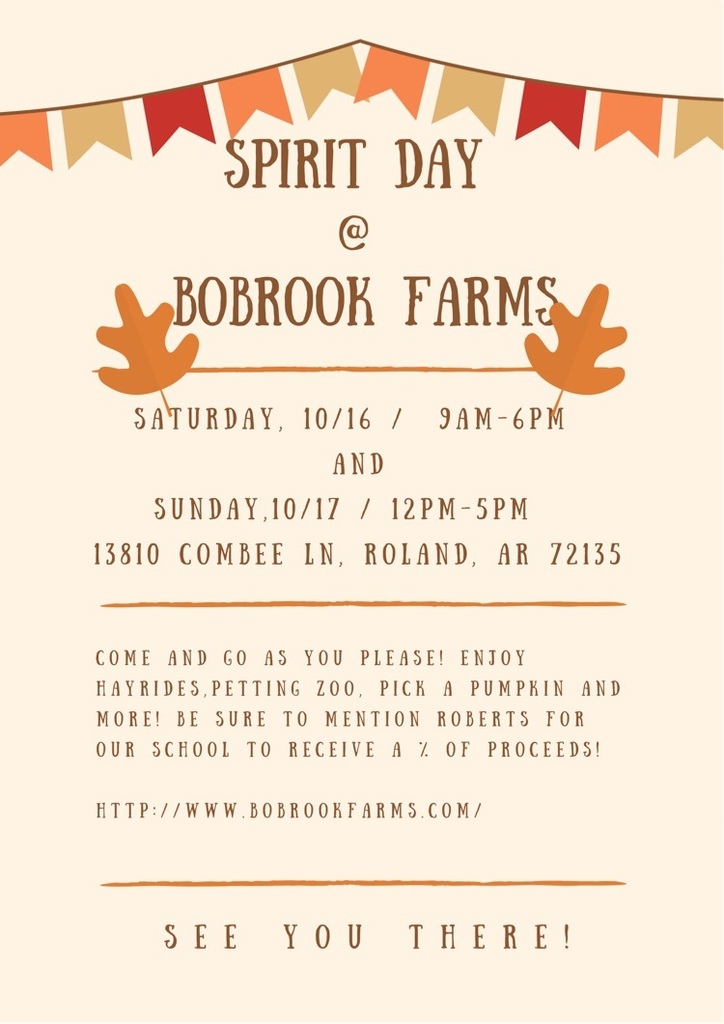 We are looking forward to our Spirit Day at BoBrook Farms! This Saturday 10/2 9AM-6PM! 🍂🐓🎃 Can't wait to see you there!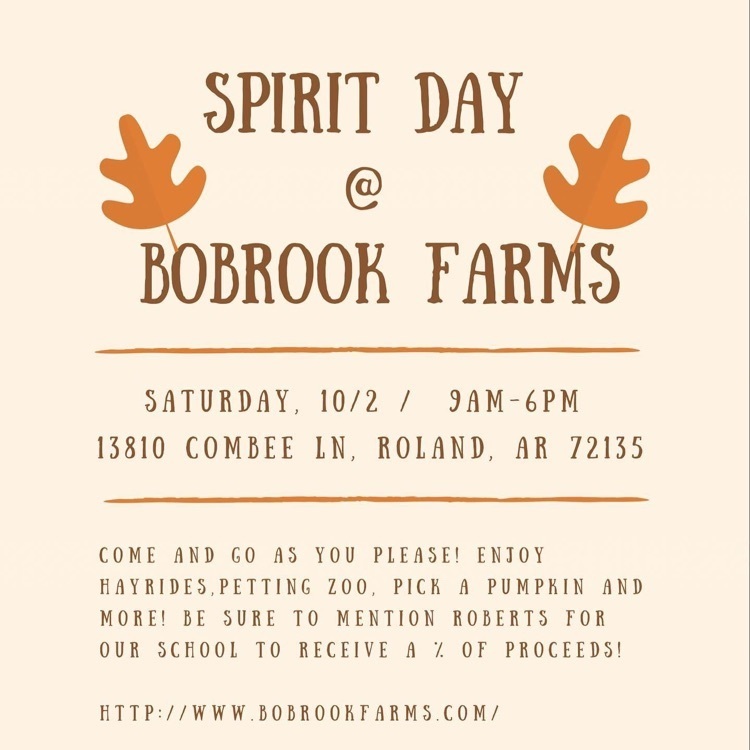 PTA Pop Up shop this afternoon! 4:30-6:00pm outside main entrance Pick up decals and yard signs, purchase memberships, first come/first serve on a few extra t-shirts available!
Good morning! A few updates for this week: Today - PTA Pop up shop from 4:30-6:00 where you can pick up yard signs, decals, etc. Chick-Fil-A spirit week all week at CFA on Cantrell! Mention Roberts with every order and portion of proceeds go to school! 🐔 Thursday- Boy Scout Informational Meeting at 6pm in dining room. Friday - Custodial Appreciation Day Have a great Monday! 🎉

Our last PTA pop-up shop will be taking place in front of the school next Monday, 9/27 from 4:30-6PM. This is your opportunity to pick up any yard signs, decals, etc that you have already ordered but not picked up yet. You also will have the opportunity to sign up for a new Roberts PTA membership (although you can do that anytime through our app as well). We will also have a very limited number of extra shirts for sale, first come/first serve Check our FB page for the available styles/sizes Hope to see you then! 👋🏻
School picture 📸day is tomorrow at Roberts! Bring your smile!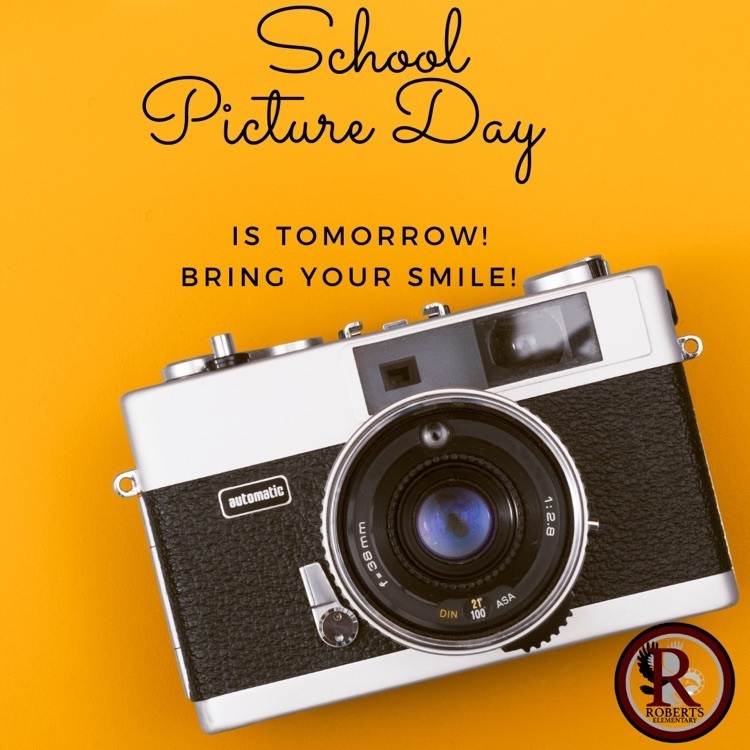 Loving the positive connections with our "Good News Calls 📞 of the Day" - 40 calls and counting! 🎉👊🏼🎉 #RobertsRocksPositiveRelationships