PTA Pop Up Shop happening now! Come see us and pick up your items or purchase a membership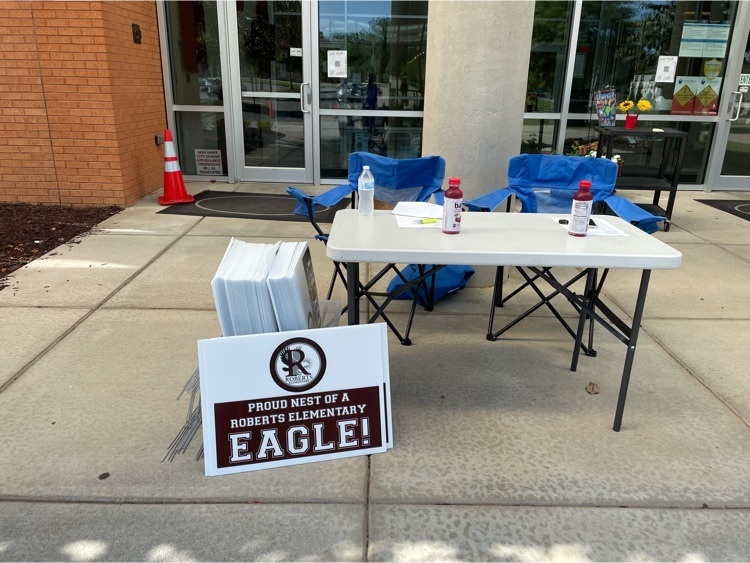 Spirit Wear LAST CALL! If you are interested in t-shirts please go to the Roberts Elementary App now and place your order. Simply click the spirit wear tab and find great shirts for the entire family. We are turning in the order in the morning.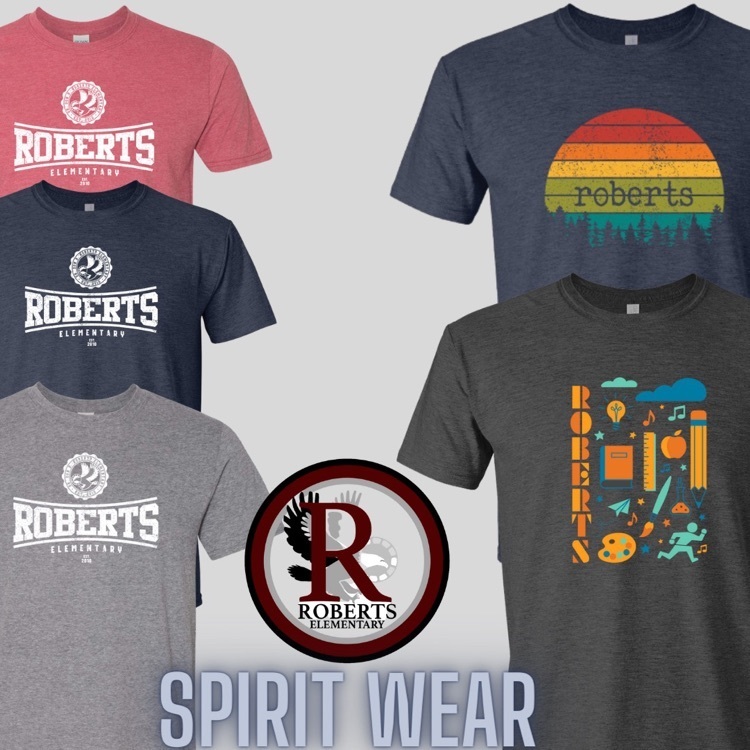 Good Evening! A few reminders to share for the upcoming week! 1)T-shirt orders will close tonight! Please use the spirit store button on the Roberts app to purchase. When shirts arrive we'll send them home with students 2)Don't forget our Taco's and Town Hall coming up THIS Thursday 8/26 at 7:30pm. Visit Tacos 4 Life anytime Thursday and our school will receive the proceeds! Submit your questions for our Town hall here:
https://forms.gle/bLkQJYoym4Txtqjr7
3) PTA Membership Pop up Shops are this Monday and Tuesday 4:30-6pm outside the main entrance. Stop by to pick up your decal or yard sign or purchase a membership with cash/check/card! Have a great week!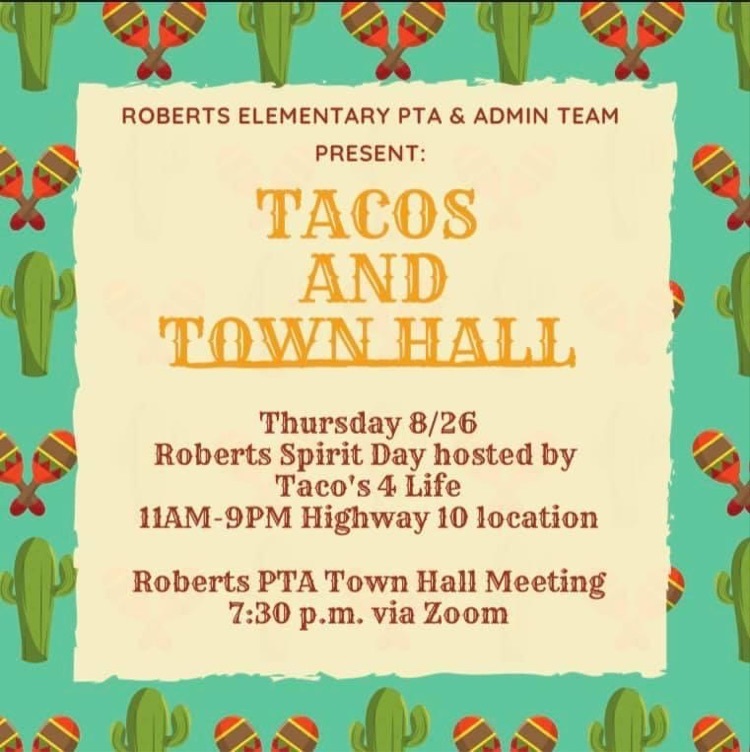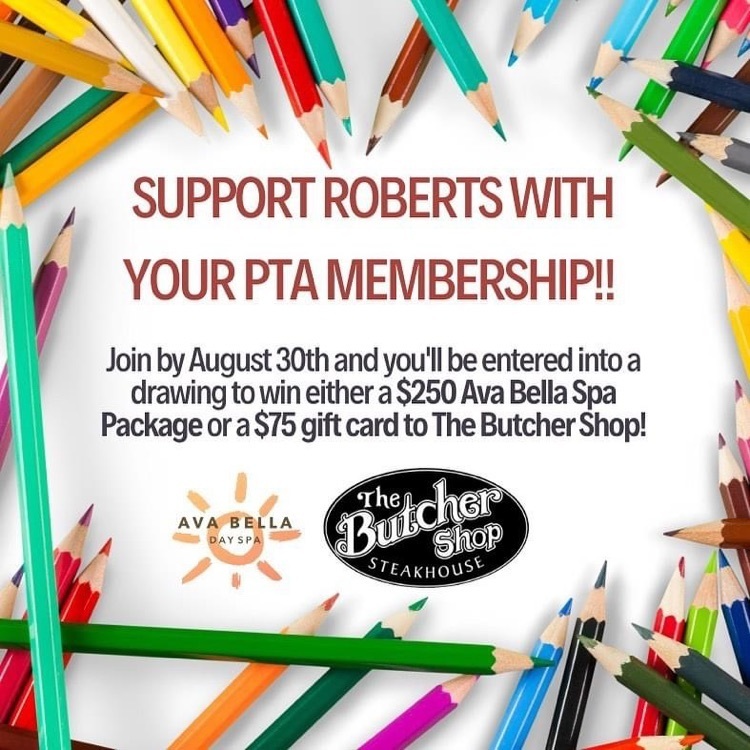 Need to purchase a PTA Membership or pick up your car decal or yard sign? Come see us in front of the main office Monday 8/23 and Tuesday 8/24 from 4:30-6:00pm Memberships can be purchased via the Spirit Store anytime on our app OR one of these two nights with credit card, cash or check! You'll be entered in to win one of the raffle prizes if you join before 8/30! Thanks for your support!

Good Afternoon and Happy Friday! Our membership drive is going strong but we still need your support! Join before 8/30 and you'll be entered to win either a $250 Ava Bella gift card or a $75 Butcher Shop gift card! Join using the link here:
https://donrobertselementarypta.memberhub.com/store
or come to one of our Pop Up PTA Membership shops next Monday and Tuesday (4:30-6pm) outside the main entrance Thank you for your support and have a fantastic weekend! Have a fantastic weekend!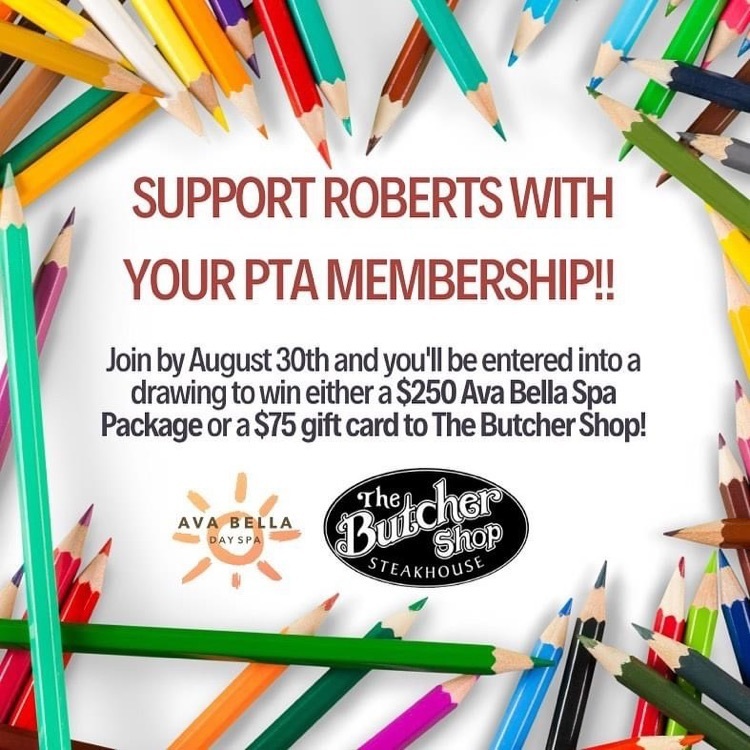 Tacos & Town Hall Thursday (8/26)! We will be receiving 20% of the proceeds..just be sure to mention Roberts! Also, please remember to submit your questions for the Town Hall meeting at
https://forms.gle/bLkQJYoym4Txtqjr7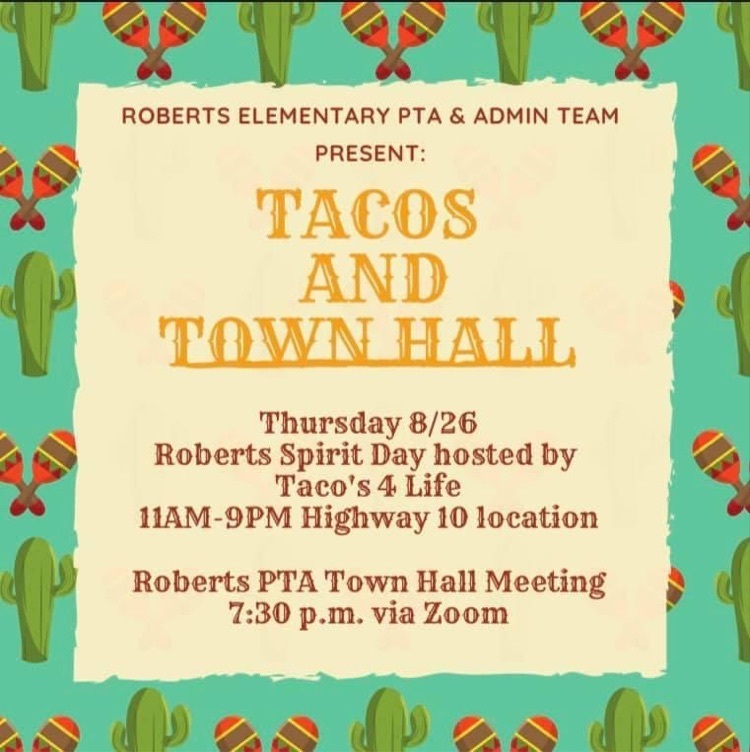 Hello Roberts Family! We will be holding a virtual Town Hall meeting next Thursday, August 26th. Please take some time to use the linked questionnaire to ask us any questions that you have for us, so that we may answer them for you at the meeting! Please submit questions via this questionnaire by 8/23 (Monday).
https://forms.gle/bLkQJYoym4Txtqjr7
Thank you!!
Good evening Roberts families, Today was a great day, but I also know it had its challenges in regards to arrival and dismissal for carpool. The following are a few things to note as we work to improve both drop off and pick up. • PikMyKid ◦ Please don't use the PikMyKid App. ALL you need is the barcode (pink paper) to pick your kid up. This is different than last year.  • Carpool Locations ◦ Kindergarten Side ▪ Kindergarten, 1st grade students AND siblings  ◦ Main Side  ▪ 2nd, 3rd, 4th and 5th grade students WITHOUT Kinder or 1st siblings Please ensure your child has a reusable water bottle for the classroom and separate drink for lunch. We ran into many students today who didn't bring their water from the classroom with them to lunch.  Know that we were thrilled to be with your students today and are also committed to working on solutions for improvement of our arrival and pick up procedures.  A video is posted on our Facebook page and our email blast to communicate more in detail with families about today.  Thanks for entrusting your children to us on a daily basis. Looking forward to a great day #2 tomorrow!
Good evening Roberts families!  Tomorrow is the big day! We can't wait to welcome your children to campus tomorrow for the first day of school! The following are a few reminders as we gear up for the morning: School starts at 7:40am. Drop off begins at 7:15am. Masks are required at all times except for outside and while eating. (staff and students) If you do not have your barcode for PikMyKid to pick up your child in carpool, please pull through the bus lane after all buses are dismissed and someone will get you your tag. This will help our carpool continue to flow as smoothly as possible. Staff will be all throughout the building to help your children find their classes in the morning. Thanks for entrusting your child's safety and education to us at Roberts. We don't take either lightly and we look forward to engaging, equipping and encouraging your child for educational and personal excellence this year!  See you in the AM!

Don't forget about our spirit day with Larry's still going on today and tonight! Visit Larry's for dine in, curbside or carry-out until 9pm tonight! Be sure to show this graphic! A portion of the proceeds will come back to our PTA!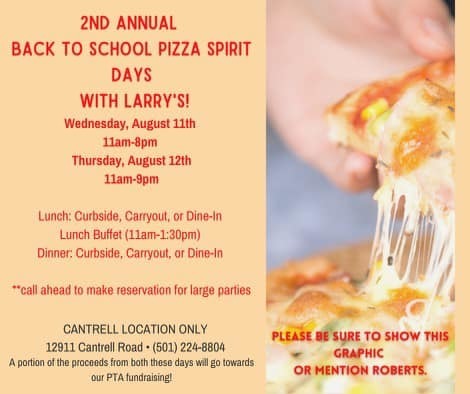 Getting geared up for K-2 Meet the Teacher Night! 5-7pm Remember to bring supplies in bag with student name. Kindergarten entrance - Kindergarten Main entrance - 1st grade Bus lane - 2nd grade We can't wait to meet your kids! #together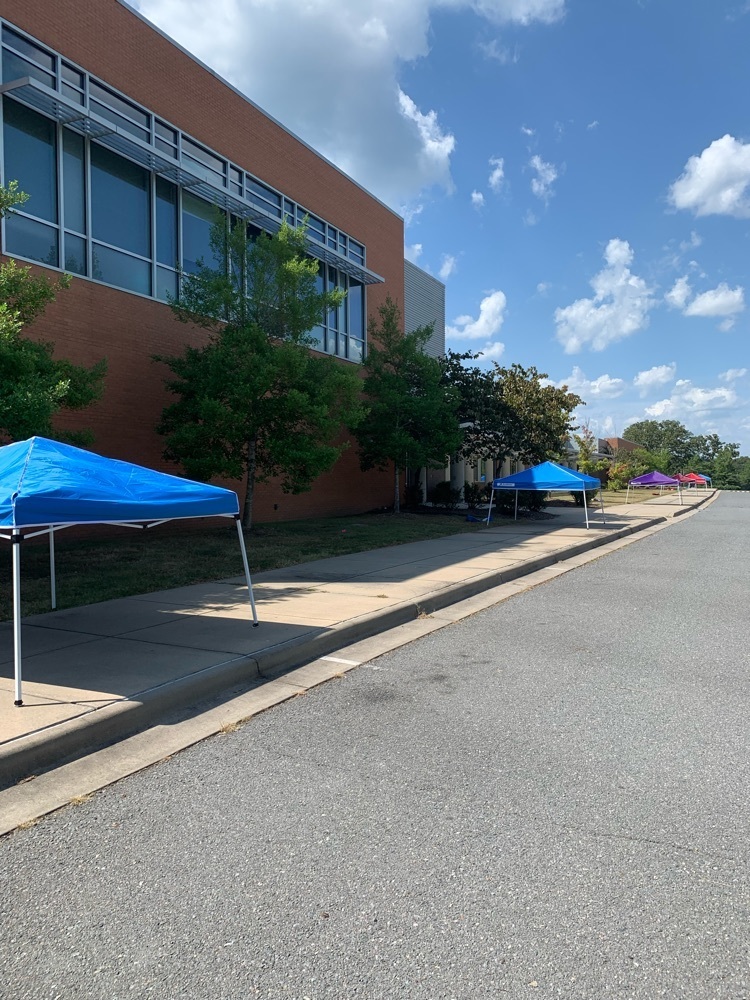 It's a great day at Roberts Elementary! Looking forward to another day of getting ready for our students! Don't forget to join us tonight if you registered for our tours. #together #robertsrocks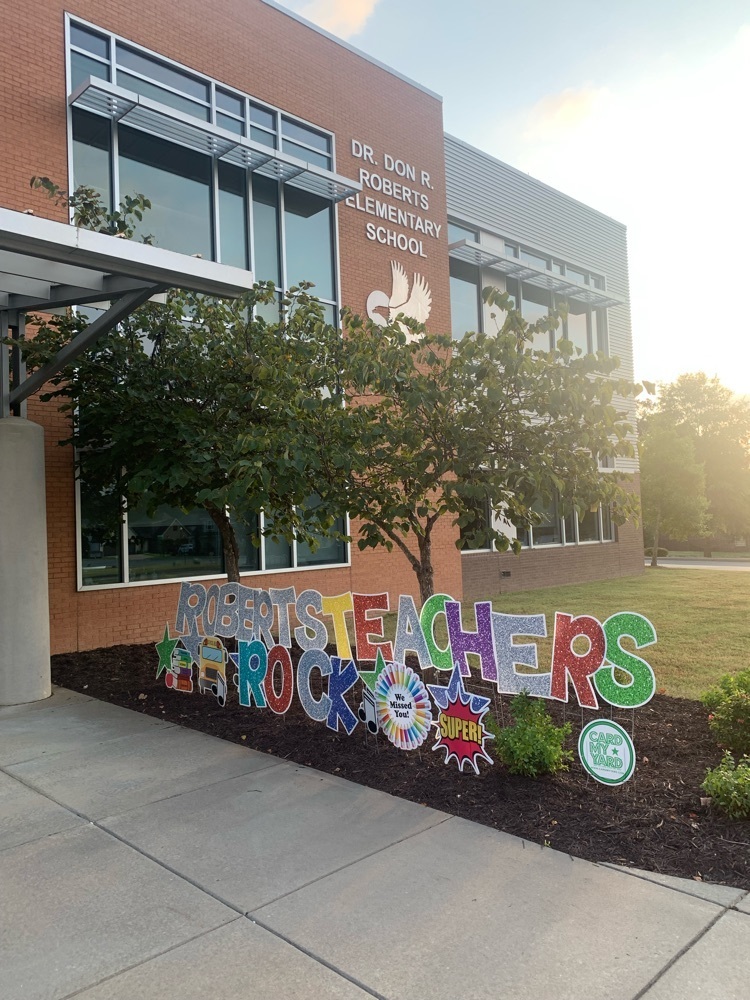 Reminder: LRSD Town Hall at PVMS tonight at 5:30pm! Join us as we talk about exciting potential building opportunities in the district!